Basque Youths Carry on Handball Tradition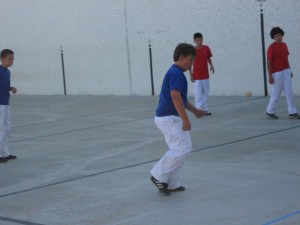 Basques who immigrated to the U.S. have managed to hang onto their national pastime of handball, playing it just like their ancestors did. Some say it's dying, but a game between 8, 9 and 10-year-olds yesterday, showed that the sport is still alive and well.
Two teams of brothers — Asier and Angeru De Luz, ages 10 and 8 respectively, and Joseba and Xabi Iparraguirre, ages 10 and 9 — battled it out in a competitive match on Saturday, May 26 at the Kern County Basque Club court.
The exhibition match was part of the 40th annual Kern County Basque Club Festival, which typically attracts upwards of 2,000 people during the Memorial Day weekend.
As the boys squared off on the handball court, the score went back and forth — at one point it was 16-16 and at another it was 19-19. Crowds in the bleachers whistled and cheered as the players smacked the ball, and, at times, fell to the ground as they tried to keep volleys alive.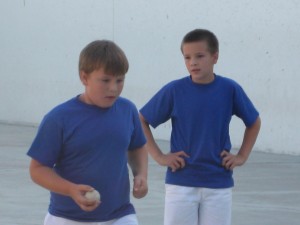 But in the end, the Iparraguirre brothers won, 22-20. There were some tears, but the opposing players shook hands and walked off the fronton as people in the bleachers clapped at their performance.
"They took it hard," said handball coordinator Jose Recondo, who kept score. "I have to remember how it was when I was their age."
The two teams have been practicing once or twice a week, especially during dance practice season that began in February, said mom Teresa Iparraguirre, who also is a pelota player. She noted that the boys are also on the same soccer teams.
The De Luz brothers have been playing handball a long time. Their father, Javier De Luz, was an accomplished handball player in the Basque Country.
Handball, pelota, pilote, pilota — whichever language version you refer to, Basques in the U.S. know the game. It's usually played against a front and left-wall.
Mirentxu Auzqui, of Arnegi, France, who is spending a month in the U.S., watched the match between the youngsters.
"It's great that they're so far away from the Basque Country and they still do all this."