Buffalo Accordionist Plays to Preserve Basque Culture
For David Romtvedt, playing his accordion is a way of helping Basque people maintain their unique culture.
Since the mid-1990s, the wiry accordionist has been belting out fandangos and other folk and dance tunes with the Bighorn Basque Club in Buffalo, Wyoming. He recently played with the group's dancers at the huge Jaialdi 2010 international Basque festival in Boise.
"It's really, really important to me," Romtvedt says of playing his diatonic button accordion, known as a trikitixa in the Basque language of Euskera. "The music is linked to Basque people maintaining their culture as Basques."

Additional Euskal Kazeta accordionist videos, articles:
Kepa Junkera Live in Chino
Kepa Junkera Hopes to Spread Basque Music
Raised near the U.S.-Mexico border in southern Arizona, Romtvedt was influenced by accordion music in the Southwest. He began playing Tejano and Norteño songs and expanded his repertoire to include Creole Zydeco folk tunes.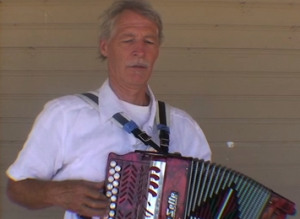 After moving to Wyoming in the late 1980s, Romtvedt married a Basque woman whose family was involved with the Big Horn club. It didn't take long for him to begin jamming with local Basque accordionists. They were older men who welcomed the newcomer.
"They were happy to have a new person start playing," he said.