Team USA handball players Tony Huarte and Roger Etchevers were defeated by stronger Mexican opponents Friday at the World Championships of Pelota, but the two U.S. athletes still remain in the hunt for bronze medals at the international tournament in Pau, France.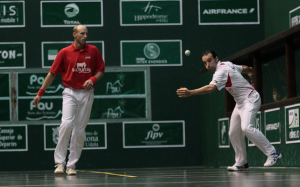 The two U.S. matches came on a day when gold medals were awarded to France in xare and to Argentina in men's paleta goma. The tournament, sponsored every four years by the International Federation of Basque Pelota, continues tomorrow and Sunday with finals in about a dozen different pelota specialties.
Related Euskal Kazeta Pelota Championship Reports:
Etchevers of Team USA wins match at Championships
Team USA Women Hang Tough at Pelota Tourney
Basque Cultural Center Pilotaris on Team USA
On the 36-meter court Friday, Team USA's Huarte got off to a fast start against the formidable Momo Medina, a one-time professional player and 2000 Under-22 World Champion. Huarte, a South San Francisco native, led 5 to 0 before Medina gained a head of steam. Huarte fell behind as Medina began to pull away but kept battling to the end. The final score: 22-10.
In trinquete action, Team USA's Etchevers squared off against Cabello of Mexico in a singles semifinal battle. A native of Pomona, California, who now lives in the Basque town of Irissari, Etchevers gave it his best shot. But it wasn't enough as the more powerful Cabello came out on top 40 to 4.
In recent years, Mexico has produced a number of world-class handball players. So it was not surprising that they would beat their U.S. opponents.
Going into the tournament, the strategy of Team USA was to use the international competition as a building block for its pelota program and hopefully win some bronze medals — which Huarte and Etchevers are in a position to accomplish.
Below are some of the highlights from Friday's tournament. Click on the following link for a list of all FIPV tournament results.
Men's 36-meter court singles handball semifinals
Spain ( ONSALO ) 22 — France ( ALBERDI ) 6
USA ( Tony Huarte ) 10 — Mexico ( MEDINA ) 22
Men's paleta goma trinquete final
Argentina ( TORRES, VILLEGAS J. )  30 — France ( SUZANNE, GUILLENTEGUY )  18
Men's xare trinquete final
France ( LABERDESQUE, ALGALARRONDO ) 40 — Spain  ( DUFUR, LARREA ) 20
Men's trinquete handball semifinals
France ( JEANNOTS ) 40 — Spain ( BERROGUI ) 27
Mexico ( CABELLO ) 40 — USA ( Etchevers ) 4