NABO Team at World Pilota Council Tournament in Argentina (Updated)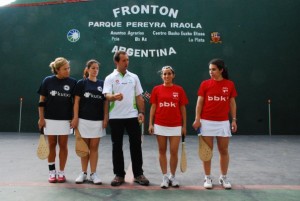 By Evelyne Etcharren
The NABO pelota team of Esther Ciganda and Maite Iribarren-Gorrindo has been playing hard at the 2009 World Pilota Council Tournament being held in Argentina.
Ciganda and Iribarren-Gorrindo, who hail from Boise, played a tough match Thursday morning Oct. 29 against the team from Euskadi. The two NABO women gave it their best, but they ended up losing 30-5.
The NABO players began the Baleen tournament, played in a trinquet, with a morning match on Oct. 28 in Bahia Blanca, a city southwest of Buenos Aires. Ciganda and Iribarren-Gorrnido gave a solid performance against Australia, but ended up losing 30-18. Team Euskadi, meanwhile, beat Venezuela 30-19.
Later that afternoon on Oct. 28, the NABO team faced off against a tough Venezuelan duo. The Venezuelans came out on top 30-8. Team Euskadi lost its Oct. 28 afternoon match to FEVA I by a score of 11-30.
The Paleta Goma championship, played in a 30 meter left-wall court, was held last week in La Plata, Argentina. The NABO team finished in sixth place. Here's the scores of the other NABO games: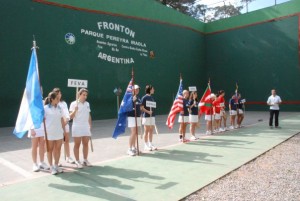 NABO v. FEVA II (18-30)
NABO v. VENEZUELA (13-30)
NABO v. AUSTRALIA (17-30)
And here are the overall results for the Paleta Goma championship, won by the Euskadi team:
1st Place – EUSKADI
2nds – FEVA I
3rd – VENEZUELA
4th – FEVA II
5th – AUSTRALIA
6th – NABO
In August, NABO held its 34th annual Pelota Championships at the Basque Cultural Center in South San Francisco. The games featured action-packed performances by all the participants.