The Black Sheep of Basque Dance in American West Takes Flight as Txori Baltza
Creating a modern Basque dance group in the American West is possible — with courage and persistence. A group of friends launched a contemporary dance group that now performs at Basque American gatherings.
Ten years ago, Franci Mendive and Kiaya Memeo were young members of Ariñak, the Basque dance club in the small ranching and mining town of Elko, in northern Nevada. After years of practicing the same steps and performing traditional dances at local festivities, they wanted to experiment with new choreographies.
Elko has a strong Basque community, thanks to a century of sheepherding. But perceptions of what counts as Basque culture can often be conservative. When the two friends presented their ideas to Ariñak, the response was "No."
"I guess they were afraid to lose what they had worked so hard to build, even though it was never our intention to bring any of that down," Mendive speculated.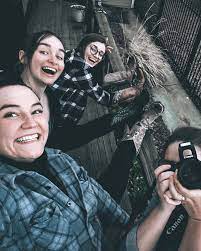 Undeterred, they created their own group, calling it Ardi Baltza, or Black Sheep, using the Bizkaian word for black. Along with other dancers and some musician friends, they began creating their own dances.
"We were inspired by modern dance performances in the Basque Country which we found on the Internet," said Memeo. "Every year, what we performed was different and that is what made it fun and exciting. We were able to evolve and adapt, create, and push the boundaries of what it is to be Basque-American."
In 2015, the group went to dance at Jaialdi, the biggest Basque festival in the US, that takes place every five years in Boise, Idaho. "We just went on our own, not with any NABO-recognized club (NABO is the North American Basque Organization)," Mendive said. "It was huge exposure."
A year later, they were invited by the Smithsonian to dance in Washington DC as part of a festival focusing that year on Basque culture. It was their first live encounter with contemporary Basque dancers.
Buy this Basque t-shirt by clicking here.
There, they met groups from the Basque Country, like Aukeran, Korrontzi and Kalakan that they already knew from afar. "Their performances were based on Basque stories and Basque music, but the dance steps were re-imagined, traditional in inspiration but at the same time new," Mendive recalled. "So were their costumes and the way they did their hair. They played cellos and violins rather than accordions and albokas."
"We were able not only to watch them perform but to speak with them and dance with them at the hotel after long festival days," added Memeo. "This proved to be one of the most inspiring opportunities for us."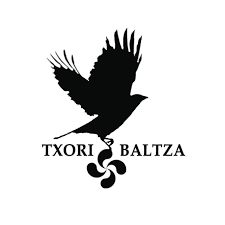 MORE RELATED ARTICLES FROM EUSKAL KAZETA
Elko Festival One of First to Return After Pandemic
Elko Stone Lifter Helps Carry on Basque Sporting Tradition
EK's Stories on Basque Culture at the Smithsonian Folklife Festival
On YouTube, Mendive and Memeo searched for Basque dance performances "that looked similar but also different, new and exciting". They studied the dancers' moves by slowing down the videos. Other groups that inspired them included Kimua, Haatik and Kukai, "all Basque but looking different to what we were seeing in the U.S."
In 2017, they performed a dance on the theme of witchcraft at the Basque Cultural Day in San Francisco, to the music of Kalakan. In 2018, drawing on the reminiscences of older members of the Basque community, they choreographed stories of the bombing of Gernika, with a reproduction of Picasso's painting as backdrop. Their first trial run was at the Elko Cowboy Poetry Gathering, which that year featured Basque culture. There, they met Xabier Irujo, a professor at the Center for Basque Studies of the University of Nevada (Reno), who had just published his book "The Bombing of Gernika."
Collaboration between them resulted in a show called "Etxea: Memoirs of Gernika", which Ardi Baltza presented at local Basque festivals and at UNR. In 2019, they performed at the Basque club of New London, Connecticut. "When we got off stage," Mendive recalled, "people were sobbing, grateful to us for talking about eyewitness stories. The show had in a way given them permission to revisit these events."
But things were changing, as members of the group moved away from Elko for work and to continue their studies. Memeo left for Chicago with her family. Mendive and her husband went to live in Gardnerville, Nev., not far from Reno. With four friends who lived nearby, they set about forming a new group. Inspiration hit when they heard a 1960s anti-racist song by the Beatles, "Blackbird." This, they decided, would be the new name of their group: Txori Baltza. "For many Basques," added Mendive, "the blackbird represents freedom." (Txori Baltza on Instagram)
But in early 2020, the Covid pandemic hit. Determined to pursue their plans, they got together with social distancing, rehearsed on Zoom and shared choreographies via Facebook. Mendive wore different colored socks to show left and right steps on camera. They performed a mini stage show at the Sheepherders' Ball in Boise. The story was close to that of Mendive's grandparents who were separated when her grandfather left for Nevada to work as a sheepherder and his wife stayed at home with their newborn.
This summer, Txori Baltza danced at the Basque festivals of Elko and Reno in Nevada. They were also invited to dance at the annual Basque picnic in Gardnerville, but one of their dancers caught Covid.
Now, Mendive and her friends are working on a show for spring 2023 on the topic of censorship and media propaganda. It relates to experiences in the Basque Country, including Franco's denial of responsibility in the bombing of Gernika, and to current events such as the war in Ukraine and the disinformation spread by Russian propaganda. Txori Baltza is spreading its wings.
Txori Baltza on Facebook
Txori Baltza on Instagram
—
A French version of this article appeared last October, on the Basque news platform Mediabask.

Introducing Txori Baltza

Txori Baltza dances the Aurresku

Txori Baltza at 2017 Basque Cultural Day