Elko Stone Lifter Helps Carry on Basque Sporting Tradition
Update: Aitor Narvaiza was elected sheriff of Elko County, Nev. in November 2018.
Aitor Narvaiza grunts as he lifts the smooth, 225-pound granite ball onto his shoulder and then tosses it to the ground. Taking a moment to catch his breath, the Basque strongman repeats the grueling feat several more times as two safety spotters stand by and an announcer counts each repetition over a loud speaker.
Known as herri kirolak (rural sports) in the Basque language of Euskera, Basque sporting events such as stone lifting, tossing hay bales and chopping wood are rooted in traditional farm chores that date back centuries. Today, these feats of physical prowess are performed by athletes like Narvaiza who compete at festivals in Basque communities across the American West and help keep an ancient tradition alive.
On a warm fall afternoon in Las Vegas, Narvaiza, who is a deputy sheriff in Elko, Nev., is wooing spectators at the annual Lagun Onak Basque Festival. Bulky and barrel-chested with thick arms, he could easily pass as an NFL lineman. His herculean exhibition includes lifting a massive cube that weighs 270 pounds. He balances the heavy chunk on his shoulder before tossing it to the ground. Sweat beading on his brow, Narvaiza tries his hand at a cylinder that weighs more than 200 pounds. He throws it around like some people toss a beach ball.
"It's a gut check," the stone lifter later tells Euskal Kazeta. "The more it hurts, the more I like it."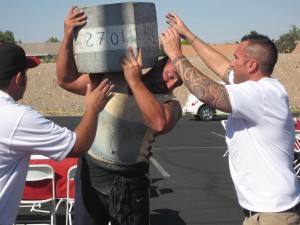 RELATED EUSKAL KAZETA REPORTS
The Basques Popularize Pelota in the U.S.
Stephanie Braña Chops Logs With The Big Boys
Basque Strongmen Show Skills at Jaialdi 2010 Sports Night
A veteran deputy sheriff in Elko, Nevada, the 45-year-old Narvaiza is a regular on the Basque festival circuit. He was born in the Basque province of Bizkaia and came to the United States when he was 8 years old. Narvaiza grew up in Battle Mountain, one of several towns in northern Nevada where Basque men first arrived a generation ago to work as sheepherders in the Great Basin. His father came to the U.S. to herd sheep, then later brought his family.
Stone lifting, or harrijasoketa as it's known in Basque, is a tradition that runs in Narvaiza's family. An uncle in the Basque Country was a harrijasotzaile, or stone lifter. So Narvaiza says it was only natural that he became one, too.
Stone lifting is one of the more popular Basque sporting events, but it isn' t the only one.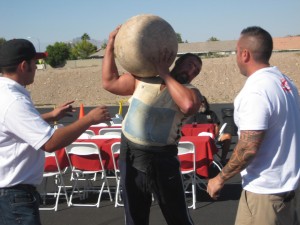 Basque athletes also compete in wood chopping events. They also carry weights, known as txingas. The txingas can weigh up to 75 pounds apiece and are held in each hand as competitors walk a course until they can't hold the weights anymore, dropping them to the ground. The athlete who walks the farthest wins.
These feats of strength and endurance are also featured in competitions in the Basque County. In addition, strongmen lift anvils, and they also toss huge bales of hay with pitchforks or hoist them with rope and pulleys.
Though these Basque sporting events differ, they all have have one common characteristic: "It's all guts," Narvaiza says.