Fundraiser for Basque Documentary Film Ipuina Kontatu

Supporters of "Ipuina Kontatu," a documentary film project about the resilient Basque culture, will be holding a fund-raising event at New York City's trendy Bar Basque to raise money to finish the film.
The fundraiser will be Wednesday Jan. 12 from 6 p.m. to 8 p.m. at the newly opened bar and restaurant, which is holding the event with help from the restaurant Txikito.
Ipuina Kontatu, which means telling stories in the Basque language of Euskera, explores how Basques have used oral history to help preserve their unique language and traditions.
Related Euskal Kazeta Basque film reports:
Basque filmmaker Features Bertsolaritza
International Film Festival in Donostia
San Francisco Basque Film Series
Shot in the Basque Country, Ipuina Kontatu weaves the story of its characters together to call into question the relevance of Basque culture — and culture in general — to social progress, according to the producers of the project.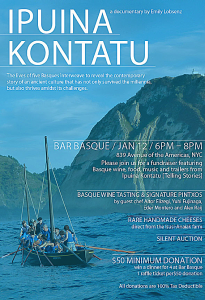 The film is directed by Emily Lobsenz.
The event at Bar Basque will feature a preview of the film, a tasting of Basque wines and cheeses, music from Kepa Junkera's "Etxea-Kalea-Herria" trilogy and live jazz performances. There will also be a silent auction that will include some rare wines and cheeses and hand-made leather goods from Argentina.
Lobsenz is using Kickstarter, a social-media funding platform, to raise money to complete the film editing and sound-mixing process. People interested in donating to the project can find out more information at the Ipuina Kontatu Kickstarter web page.
"The long, costly editing process is just getting started," producers said in a description of the project on Kickstarter. "Your contributions will bring the brilliance of this beautiful film about a fascinating place and peoples."