Hiking in Pyrenees Helps Pelota Director Improve Health
During a recent trip to the Basque Country, Xabier Berrueta hiked a total of at least 180 miles, continuing a personal campaign to improve his health and lose weight. Berrueta, president of the U.S. Federation of Pelota, walked for 2 ½ hours almost every day during a visit with his relatives in the Baztan Valley in Nafarroa.
He covered 9 to 13 kilometers during the daily walk, which typically took him from the town of Elizondo, where he stayed, through the nearby towns of Elbete, Lekaroz, Irurita and Gartzain in the Pyrenees Mountains. "It was very therapeutic," said Berrueta, noting that he still managed to lose weight, despite indulging in decadent meals.

Berrueta was originally supposed to make the trip with his father, mother, brother and sister-in-law. They had already bought their plane tickets and his father, Felix Berrueta, had already exchanged dollars for Euros in anticipation. But their plans were not to be. The 86-year-old patriarch, originally from Arraioz, Nafarroa, passed away unexpectedly on June 17. "It was a shock," said Berrueta, because his father had a clean bill of health despite his age.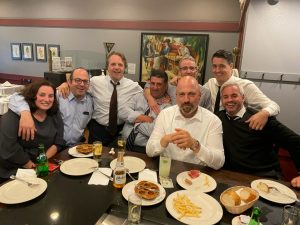 After his funeral, Berrueta's family pondered whether they should still make the trip, and decided that they owed it to their relatives in the Basque Country to visit them. Once there, they held a mass and a lunch in his father's honor.
Xabier Berrueta had been working on losing weight since December 2019. While initially his efforts were focused on cutting calories through the Enara Health program, his weight continued to yoyo. He eventually began walking to increase his weight loss efforts. "I need to walk," Berrueta has concluded, noting he mostly walks in the Burlingame area, where he lives.
So when he went to the Basque Country, he continued his routine. He got up at 6 a.m. every day to go walking.
"Baztan is a great area for trail walking and mountain biking," said Berrueta. He discovered a new local phenomena, that old mountain trails that were used by smugglers or "contrabandistas" are now popular hiking routes. And much of the mountain land is communal, an arrangement that supports hiking.

MORE STORIES FROM EUSKAL KAZETA
Top 7 Basque Restaurants in the World
Basque Athletes in the 2021 Olympics
Basques Help Popularize Handball in the U.S.
Berrueta, who spent four weeks in Spain, typically did the daily hike alone, but on the weekends, friends or relatives joined him. He also climbed a local mountain, Mendaur, with a group of friends. "That was full-on Stairmaster," he said of hiking the 3,700 ft. summit.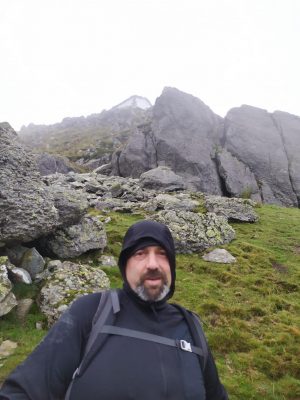 The worst experience during his hiking was getting lost in the fog one day. He was lost for 30 to 40 minutes because of taking a wrong road. The lesson he learned? "Don't trust technology. Trust your instincts," he said, because his phone GPS told him he was on the other side of the mountain from his actual location, which confused him.
His walking routine and the pandemic has led Berrueta to spend more time in his immediate surroundings, which he appreciates more now, at home and in the Basque Country. "We have beautiful trails right in our own neighborhoods. We don't have to go so far away."
Berrueta has lost more than 150 pounds. He made a point of seeking medical advice during his early weight loss campaign and he talked to a nutritionist daily during a four-month period when he seriously reduced his daily caloric intake. Now he is working on building muscle mass.
He's learned a lot about maintaining his weight. He eats a lot of protein, but avoids much red meat, focusing on white fish, chicken and some pork. He prepares food on the weekend, so he has good lunches to take to work. He has mostly quit drinking alcohol, with the exception of a glass of red wine during lunch or dinner. He also makes a point of enjoying his meals and not eating past a certain hour. He avoids sugar and salt, trying to appreciate foods' natural flavors.
He has made his health a top priority, trying to be more active and spend less time on the couch watching sports. He is considering whether to give up his volunteer job as president of the U.S. Federation of Pelota, a role he has held for 14 years. He is a former director of the Basque Cultural Center in South San Francisco, where he still spends a lot of time.
He tries to go to bed at a decent hour in order to get up early, which was difficult during his Basque Country trip. He often went to bed late because of visiting with friends and family. At one point, he had to take a few days off from hiking because his body was protesting the late nights and early morning hikes. Back at home now, he takes public transit to his job in San Francisco because it forces him to walk. He covers 3 ½ miles "just in the commute alone."
Berrueta said he was motivated to make a change because he was just "miserable" carrying so much weight. Some of the encouragement came from people who were not in his immediate circle of friends, "people who had been in my life earlier" and knew him when he weighed less.
These days, he eats normal amounts, but works on optimizing his food choices. "I'm very selective about what I eat," he said. He is part of a group of members from the Basque Cultural Center, led by health coach Yvette Gorostiague Fantham, who meet regularly on Zoom. "We stay on top of each other," he said, noting that being part of a group is extremely helpful.
"He's doing it from the inside out," said Fantham about Berrueta. "He's working on eating better and exercising, but also bringing good habits into play." The nutritional consultant and head of CalmNutrition.com emphasized that keeping weight off and improving health usually requires changing habits and "those habits become who you are."
"Now I'm 49, going on 29," said Berrueta, about how good he feels.