Jaialdi Attracts Basques from Around the World
Basques from many different places traveled to Boise, Idaho for the Jaialdi 2015 celebration the first weekend of August. The distances they traveled attests to the great interest Basques have in sharing their culture with other Basques and joining in a great party. Approximately 35,000 people attended Jaialdi.
Some of the questions Euskal Kazeta asked these Basques:
Where are you from? Why did you come to Boise? How do you express your Basque heritage?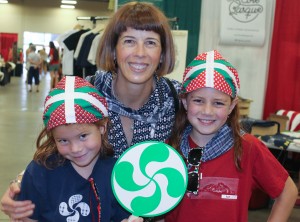 Amaya (Ormaza) Winer
Elko, Nevada, USA
Amaya Ormaza, who was born and raised in Elko, has only missed one Jaialdi since they started in 1987. She has strong ties to Boise, having attended Boise State University. She worked at Oñati restaurant in hearby Garden City while she was a student, a restaurant that has since closed down. She has represented the Elko Basque Club at NABO and her young daughters currently dance with the Elko Basque club dance group. Ormaza has attended six out of the seven Jaialdis. One Jaialdi unfortunately coincided with her husband's 20-year class reunion, and she conceded to attending that event with her husband. "That was the only reason I missed Jaialdi," said Ormaza with a laugh.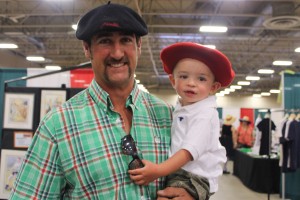 Zack Dufurrena
Jordan Valley, Oregon, USA
Cattle rancher Zack Dufurrena has lived in Jordan Valley for the past five years. "It's a tight-knit community," he said of the tiny town. Most are Basque or married to a Basque, he said. Previously, he lived with his family in Denio, Nev. on the Dufurrena family ranch. In Jordan Valley, "we have bragging rights – we make the best chorizo," he said. Every fall, everybody gets in the mood to make the Basque sausage. "All the ranchers make their secret batch of chorizos and they send them off to the "elders," he explained. "And they decide whose are the best."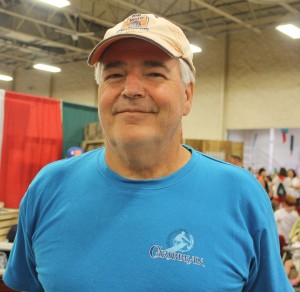 Henry Artis
Spokane, Washington, USA
Henry Artis, originally from Boise, gathered with his nine brothers and sisters for a family reunion during Jaialdi. Artis noted that his grandmother, Espi Alegria, helped produce a radio program in Basque for many years that was a favorite among the sheepherders out on the range. Artis arrived at Jaialdi after recently completing the route of Santiago de Compostela in Spain. He joked that he was first inspired to walk the entire pilgrimage route about 40 years ago during the Festival of San Fermín in Pamplona, when he walked about a mile of it to sober up after some youthful partying. "I'd like to do this," he told himself at that time. Two of his siblings joined him in the journey, which travels partially through the Basque Country. He was impressed to learn that each individual pilgrim is interviewed at the end and their answers are recorded in a book. Why did he walk it? "For personal growth."
MORE JAIALDI ARTICLES
Jaialdi Features Really Strong Men at Sports Night
What's Planned for Jaialdi 2015
Basque Government Honors Jaialdi Founders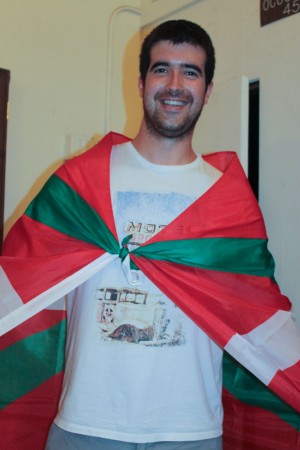 Mikel Salvidea
Donosti, Gipuzkoa, Spain
Mikel Salvidea wore an ikurriña the first night of Jaialdi as he and his friends wandered the Basque Block. He serves as a translator for students who study in Donosti, through the University Studies Abroad Consortium. Salvidea has made many friends among the students who have come through the program in recent years. "They invited me to join them," said Salvidea.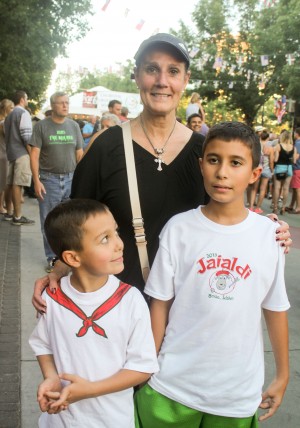 Amparo Hofman
Burns, Oregon, USA
Amparo (Lete) Hofman came to Boise to watch her nephews play soccer, then stayed to enjoy the Jaialdi celebration with her brother Jess Lete and his family. She grew up in Burns, Oregon, where her family, the Letes, were the last owners of the Plaza Hotel. There were two Basque boardinghouses in town at the time, the other one owned by the Zabalas. "Mom was an amazing cook," said Hofman. Hofman has moved back to Burns from Bend, Oregon to take care of her mother, Maria Lete, now 90. "You couldn't have a better life," said Hofman, about growing up in a boardinghouse. "It was a great upbringing. That is why I still speak Basque."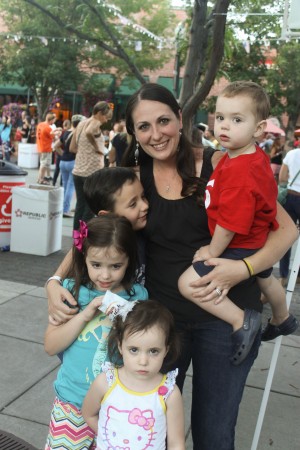 Vanessa Camou
Bakersfield, California, USA
Vanessa and her husband Dominique Camou drove from Bakersfield, Calif. with their four young children to enjoy Jaialdi. While the couple is originally from Chino, Calif., they have moved to Bakersfield like many other Basque families from Chino. Her husband Dominique is the coach of the team of young handball players who competed on Friday at the Anduiza fronton as part of the NABO pelota finals. "I can't believe how big it is for a Tuesday," said Camou, reflecting on the crowd gathered at the Basque Block early in the week.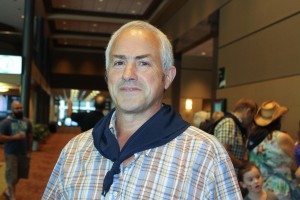 Jose Bernardo Basterrica
Sunbilla, Nafarroa, Spain
Jose Basterrica first came to Wyoming in 1971 to work as a sheepherder. He went back to the Basque Country in 1978. He was part of a large group of former sheepherders, Euskal Artzainak Ameriketan, who traveled to the US for Jaialdi. They also visited Reno and Winnemucca, Nev. He also joined a similar trip organized two years ago, in which they visited several Basque communities in California.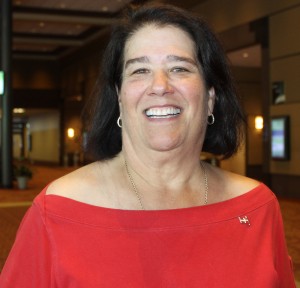 Debbie Coscorrosa (Belaustegui)
Seattle, Washington, USA
Debbie Coscorrosa moved to Seattle in 1980, but has returned to Boise for almost every Jaialdi celebration. Coscorrosa is originally from Boise and grew up in the boardinghouse that is now the Leku Ona restaurant, on the Basque Block. When she lived there, it was known as the Chico Club. Her grandparents, Agustín and Francisca ("Patxa") Belaustegui had it built in 1934. Unfortunately, her grandfather died while it was being built. Her grandmother and later her mother, Petra (Belaustegui) Coscorrosa, ran the boardinghouse for many years.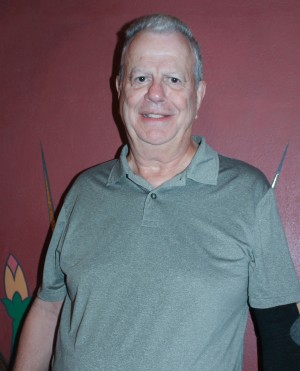 Julio Arostegui – Hemet, California, USA
Arostegui is originally from Elko, Nev., but ended up in Chino, Calif. where he worked as a high school teacher for many years. This was his first Jaialdi. "I came to Boise before, but never Jaialdi," he said. He came because his cousin, Steve Mendive and Mendive's mother invited him.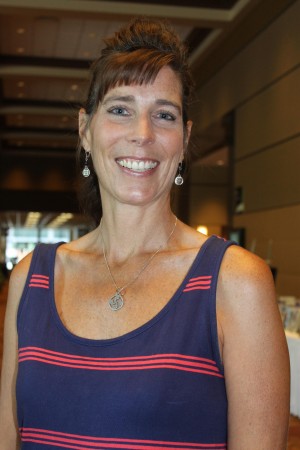 Molly (Jauregui) Hill
Winnemucca, Nevada, USA
Hill is originally from Boise and a former Oinkari dancer. Several years ago, she moved to Battle Mountain, Nev., When the Basque community found out she was a former Oinkari, they asked her to teach dance to the local Basque children. She taught the dance group for five years in the tiny town, before she moved to the bigger town of Winnemucca., Nev. Her mother, Judy Burns, still lives in Boise and was the event manager for the Jaialdi reception hosted by Basque Lehendakari Iñigo Urkullu at the Boise Centre.  Hill currently writes young adult fantasy fiction, under the pen name K.J. Winters.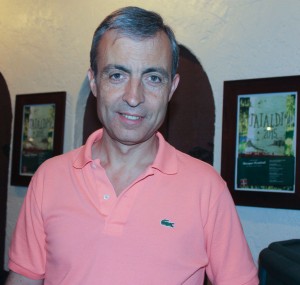 Xabier Zubillaga Zubillaga
Necochea, Argentina
Many years ago, the Argentinean Basque spent some time in the Basque Country and studied at the University of the Basque Country. While there, he met John Bieter and John Ysursa, who are currently both administrators of the Basque Studies program at Boise State. "I decided I had to go to Boise," said  Zubillaga, who attended Jaialdi 2005.  He attended this Jaialdi "to be in contact with the diaspora," he said, adding that the diaspora — Basques who live outside the Basque region — is "the eighth province."  He believes that the Basques outside the Basque region need to be united and works towards that end by connecting with Basques in different communities.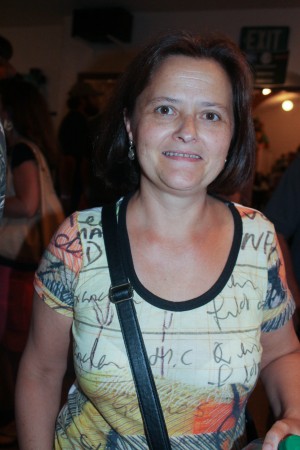 Estibaliz Amorrortu Gomez
Bakio, Bizkaia, Spain
Amorrortu is a professor of sociolinguistics at the University of Deusto in Bilbao, and she came to Boise to participate in the Basque Studies Symposium at Boise State, scheduled to coincide with Jaialdi. At the symposium, Amorrortu spoke about language identity among new Basque speakers. She has many Basque friends in the United States, having obtained her PhD at the University of Southern California.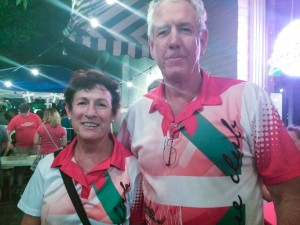 Lourdes Lund
Ayr, Queensland, Australia
Lourdes Lund was in Boise for three reasons: to celebrate her 30th wedding anniversary with husband Terry, for a family reunion and to enjoy the Jaialdi celebration. Her sister Irma Aguirre and family traveled from Gernika, Bizkaia to join the reunion. The group met with cousin Liz Lejardi, of Boise, whom Lund had not seen since 1976. Lund and her husband belong to the North Queensland Basque Club. Lund's niece, Maite Etxeandia, explained that after the Spanish Civil War, the lack of jobs in the Basque region pushed the family to immigrate to Australia for a better life. The parents and nine brothers and sisters joined an aunt there. Many Basques cut sugar cane in Australia. Some of the family eventually returned to the Basque Country, but Lund remained in Australia.