Jaialdi 2015: Basque food is a favorite on opening night
Many of the people at the opening night of Jaialdi 2015 on the Basque Block were there to try some of the Basque specialties that were for sale.
MORE JAIALDI REPORTS
What to Do at Jaialdi 2015
Dalia Dempster, 13, of Boise and her friends had never eaten croquetas before. Croquetas are deep-fried balls of flour, milk and butter usually flavored with some ham or chicken.
"They taste like cheese balls," said Dempster. She also tried a chorizo (Basque sausage), which she thought was "really good." She and her friends weren't Basque, although they have a Basque friend, Aiden, who's participating in the festivities.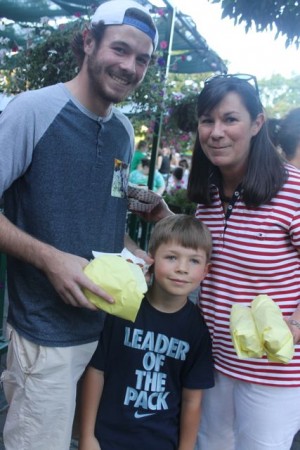 Her friend Cece Fitz was trying the croquetas for the first time too. "They have a weird texture, but they're really good."
Christina Sabala Alley bought a slew of solomo (pork loin) and chorizo sandwiches for her family, plus four small trays of croquetas. "We love 'em. They're awesome," said Alley, who is Basque.
Rich McPherson tried a solomo sandwich from one of the booths on the Basque block, but he wasn't too impressed. "I'm sure you probably get better food from these establishments," he said, pointing to the restaurants around the block. In fact, he and his wife Erika ate at Bar Gernika on the corner about a month ago and "it was delicious," she said. Her husband agreed. "I would go back there." The couple has only lived in Boise for three years, so this is their first Jaialdi.
Bar Gernika and Leku Ona, the two Basque restaurants on either end of the Basque Block, were packed with diners. Bardenay, the only restaurant on the block that's not Basque, was helping to feed the crowd with grilled corn on the cob with Spanish manchego cheese and spices.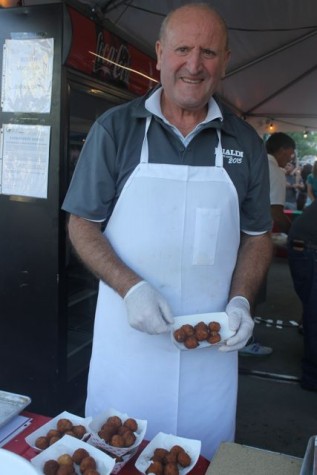 The Basque Market was cooking up giant paellas that serve over 150 people. Rebecca Tremaglio has lived in Boise for 10 years, and every summer during the annual Basque festival, she comes to the Basque Block to eat paella. " I never miss it." She knows they serve it year-round, but the street festival, the lights, and the flags enhance the experience of eating the paella. "It's the best thing you'll eat in Boise while you're here."
While Basque Market owner Tony Eiguren served up paella to Tremaglio and a line of customers, one festival goer saw the giant paella and yelled "I gotta get some!"