Lehendakari Patxi Lopez signs pact with Culinary Institue of America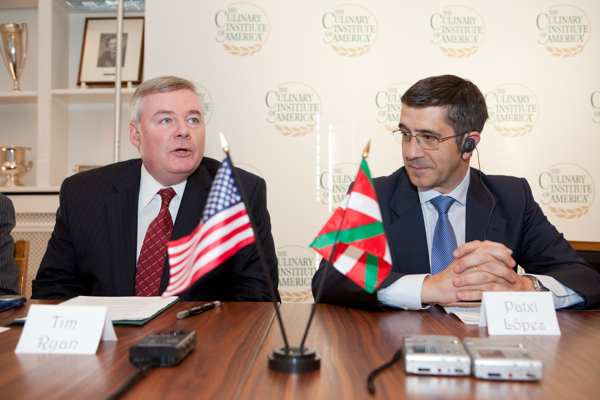 Basque lehendakari Patxi Lopez on Monday visited the Culinary Institute of America in New York to launch an initiative to strengthen ties between the prestigious college and the Basque Culinary Center in San Sebastian.
As lehendakari, or president of the Basque government, Lopez is visiting the East Coast and Texas with other Basque officials to strengthen cultural and economic ties between businesses and institutions in the United States and their counterparts in the Basque Country.
Related Euskal Kazeta Report:
Basque Lehendakari Patxi Lopez at Jaialdi 2010
In his stop at the Culinary Institute, Lopez and institute President Tim Ryan signed an agreement to create an increased understanding of foods, wines and culinary traditions in the Basque Country. The Culinary Institute is also considering publishing an international gastronomic sciences journal with Basque Culinary Center, as well as possibly collaborating on conferences, culinary arts courses and faculty-exchange programs.
"This is just the beginning of what we anticipate will be a long-term educational collaboration with our colleagues at the Basque Culinary Center," Ryan said.
Joxe Mari Aizega, director of the Basque Culinary Center, was on hand for the event. Also attending were renowned Basque chefs Juan Mari Arzak, Martin Berasategui and Andoni Luis Aduriz, who are members of the Basque Culinary Center's board of directors.
Based in Hyde Park, the Culinary Institute of America has been operating for more than six decades and is considered the leading institution for culinary education.
Earlier on his trip, Lopez joined EITB director Alberto Surio in New York City to talk about Canal Vasco, an Euskal Telebista channel that will broadcast programs to the U.S. Basque community.
See reports in EITB for information on Canal Vasco and the culinary agreement.