Berri Txarrak kicks off its American tour
The Basque rock band Berri Txarrak will kick off its American tour this Monday (April 7), in Sparks, Nev. That will be the first of eight concerts in just nine days that will take them to five different states: California, New York, Washington, Nevada, and Oregon. That is a frantic pace, but front-man Gorka Urbizu (guitars, vox) remarks: "Too much comfort is harmful for rock."
The band was interviewed by Euskal Kazeta at the Venice Beach home-studio of world-famous producer Ross Robinson (Korn, Limp Bizkit, At the Drive-in…), in the middle of the three-week recording of what will be their eighth studio album. They put themselves to the limit in a "stressful" working condition, manager Pau Vargas admitted.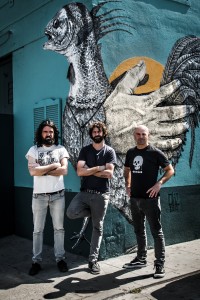 Along with Urbizu, the trio is composed of David Gonzalez (bass), and Galder Izagirre (drums). The three of them say they need to release all the tension accumulated during these weeks the best way they know: performing onstage. These shows "will definitely be good for us," said the singer. It is time to hit the road.
SEE BERRI TXARRAK'S CONCERT SCHEDULE
How do you feel about this upcoming American tour?
Even though we've played in the U.S. before, in Chicago, in San Francisco, in the SXSW Festival in Austin, those were one-time shows. So, it can be said that this is our first American tour. That's why we're really looking forward to it.
 After spending three weeks working, non-stop, in the studio, how do you guys feel about going onstage?
To work in the studio is very demanding because you need to be highly concentrated to have all the details under control. That being said, yes, gigs are sort of a liberation for us. And besides that, these are going to be our first shows of the year, so they will do us good. They will definitely be good for us after spending the whole year at the rehearsal studio and the recording studio.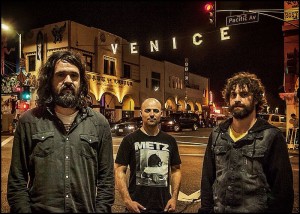 You will be performing in cities you already performed in before, like San Francisco, but you will also be visiting some cities that are unknown for the band: Seattle and New York, or Eugene, Ore. and Chico, Calif., to name some of them. Does the feeling change when you are visiting a new area and when you already know the place? And, is it a different experience to play in such an important place like Brooklyn, N.Y.,  comparing to a less-known town like, for instance, Chico?
Each concert is unique and special so, from that perspective, the idea of releasing tension and of giving it all onstage is the same, no matter where we are. Nonetheless, playing in Seattle and in New York for the first time is very exciting for us, because many, many groups we love are from there.

Are you going to play anything from your new material, or a new cover you have never played before?
I don't think we'll be playing new songs. We don't really like to show them before being released. Also, the American audience didn't have the chance to see us in our last tour, so anything we'll play will be kind of new for them.
 So far, what has been your experience on American stages?
It's been very diverse, actually. On the one hand, in Chicago, Reno, and Austin we've played in our musical environment, and it's been really cool.
And on the other hand, the shows in San Francisco and Boise have been more attached to the Basque community, musically speaking a little bit separated from what we do but, emotionally, very special. We love the Basque diaspora of America.
Berri Txarrak is a very well known band in the Basque Country (even in Spain), selling out most of its concerts. And then, you come to the US and have to fight for every one of the shows, as new bands do. That must definitely affect you.
Actually, that's very attractive to us. Too much comfort is harmful for rock and, to some extent, this is like going back to our first years but with all the experience we've acquired through the years, of course.
How is the recording process going, by the way?
Really good! Ross [Robinson] is really involved in it, so we can only be thankful for the atmosphere and the quality of the songs.
Even though you are under a very tight schedule and recording in a very short  time period, did you have the chance to go to any concerts these weeks?
We had more time to record the previous album, so we visited more places.  ("Harian" (2011) was also recorded at Ross Robinson's home-studio, in Venice Beach, but that time they spent more than two months there.)  I remember we went to see Sade and Bon Iver, at the release of Machine Head's new record. But this time we didn't have even one day off. We are pretty busy. Nevertheless, the other day we took some time off to go see Neil Young live and, also, the week before, Ross invited us to Dave Lombardo's new band's concert, Philm.
OTHER RELATED EUSKAL KAZETA REPORTS:
Basque Rockers recording album in U.S.
Inside Berri Txarrak's Venice listening party