Above: Luhartz and Rafa Iriondo interview.
For the Basque band Luhartz, playing for Basque-American audiences is a way to acknowledge the hard work made by local Basque clubs to promote the culture of their homeland.
The group, which specializes in Basque dance music, has performed at Basque festivals in San Francisco, Bakersfield, Boise and Reno since first coming to the U.S. in 2002.
The five-member band played Friday June 4 at the Basque Cultural Center in South San Francsico and will play again Sunday June 6 during the San Francisco Basque Club's annual festival at the Petaluma fairgrounds. Before that, they were at the Kern County Basque festival during Memorial Day weekend.
"We're treated well here, and we like it," accordionist Rafa Iriondo said in an interview with Euskal Kazeta during the big Bakersfield party, which was attended by hundreds of people.
He says the group appreciates that Basque culture is alive and flourishing in the places where they have performed. "Here, far away from [the Basque Country], they are maintaining the culture," Iriondo says.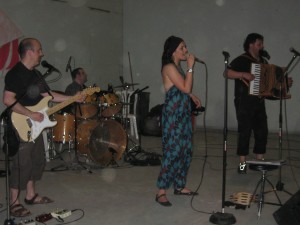 In addition to belting out lively Basque tunes, the group has adopted other types of music and sung the lyrics in the Basque language of Euskera, Iriondo says. "Basically," he says, "we play dance music."
The band members are from the Durango area in the Basque Country's province of Bizkaia. Playing with Iriondo are lead singer Aintzane Uria, guitarist Etore Akordagoitia, base player Aitor Gallestegi and drummer Aitor Aramburu.
Between their Bakersfield and Bay Area performances, the group visited Las Vegas and drove along the scenic California coastline. Hopefully, the band members said, it won't be their last trip to the U.S.
Related Euskal Kazeta articles, video:
Kern County Basque Festival 2010
Pelota Players in Bakersfield
Video: Luhartz Plays Bakersfield
San Francisco Basque Club Festival