San Francisco's klika celebrates 50 years
The San Francisco Klika celebrated its 50th anniversary this weekend as part of the Basque Cultural Center's annual anniversary festivities. Fifty of the buglers, several of them still members of the klika, showed up Saturday for an official photo of the group.
The drum and bugle corps started in 1963, mostly with immigrants from Iparralde, the French Basque side. The young men had learned to play the bugle in the army and they brought their musical skills with them when they immigrated to the United States. San Francisco was the first Basque community to organize a klika, but groups in Chino and Bakersfield soon followed.
As the crowd lined up for the photograph, someone shouted out from the crowd "Will the San Francisco Klika please come away from the bar," a comment greeted with much laughter. The klika, made up of young and old, was notorious for delaying festivities while they finished drinks at the bar.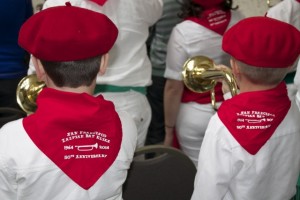 Johnny Curutchet, a longtime member of the bugle corps, has seen the changes time has wrought. In the early days, it was made up of young immigrant Basques. "In the army, they made you play every day," he noted, about how they learned. Today, most of the musicians are American-born.
"I'm very glad our young ones are still keeping it up, because there's no more coming from the Old Country," he noted.
Curutchet has been playing for 47 years. Only one current member, Pierre Labat, has been playing longer than him. Over the years, Curutchet has taught many youngsters how to play. The young ones always start with the bugle, he said, because it's easier. Later they can transfer to the trumpet or French horn, which are harder because the notes are created through the breathing and the tongue, explained Curutchet.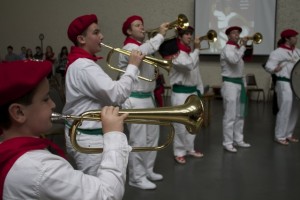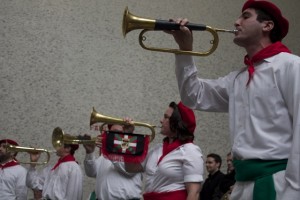 The klikas have typically played just two or three songs, including "A vous les jeunes," and "Beret rouge." In recent years they've expanded and added a couple of new songs.
The bands are traditionally male, but the San Francisco klika has had three women and all three showed up Saturday for the photo.
Denise Azcona Waligora was the first girl. She didn't want to be the only one, so she recruited her friend Anne Marie Goyhenetche. The two played the cymbals. They were the role models for Aimee Goyhenetche.
"I always wanted to play in the klika," said Aimee Goyhenetche. But her aspirations were greater. She wanted to play the bugle. And to this day, she is the klika's only female bugle player.
"I hoped at that time, that I would inspire other little girls to play," she noted, but that didn't happen. Goyhenetche, who came up from Los Angeles for the celebration, was excited to play again. She had her parents send her bugle to her so she could practice before the event.
Two of Yvette Barreneche-Savage's three sons, Dominic and Ciaran, are in the klika. Ciaran Savage, at 9, is the youngest member of the group. He's already been playing for two years. Barreneche-Savage plans to put her littlest one, Tomas, in the klika soon. "It's culture," she said.

Top Row: Matthew Etchepare (current Klika Director), Noel Goyhenetche, Daniel Ourtiague, Dominique Erdozaincy, Erik Kvarna, Michael Indart, Aitor Berrueta, David Indart, Xavier Ocafrain, Henri Ocafrain, Chris Bonson, David Alfaro (holding photo of Robert Alfaro.
Second Row: Vincent Kvarna, Robert Iriartborde, Alain Erdozaincy, Daniel Etcheverry, Joseph Goyhenetche, Aimee Marie Goyhenetche, Denise Azcona Waligora, Ann Marie Ithurburn Goyhenetche, Remi Cuburu, Nicolas Bidaurreta, Begnat Goyhenetche, Christian Curutchague
Third Row: Rene Caballero, Michel Alfaro, Roger Bonson, Jean Michel Michelena, Francois Ithurralde, Mark Sorhouet, Xabier Salaburu, Bernard Ithurralde, Frederic Alfaro (photo), John Falxa, Jesse Kvarna, Dominic Savage, Daniel Camou.
First Row: Jean Pierre Elissetche, Gratien Etchebehere, Jean Baptiste Urruty, Pierre Labat, Johnny Curutchet, Pierre Etcharren, Franxoa Bidaurreta, Bernard Arduain, Andre Arduain, Gratien Alfaro, Jean Pierre Ithurralde.
Boys Sitting: Keiran Savage, Gexan Arrechea, Tomas Savage.