Team USA Keeps Hope Alive at World Pelota Championships
By Xabier Berrueta,
United States Federation of Pelota
As the World Championships of Pelota enters its final rounds, Team USA members have played some great games and shown a lot of potential for future tournaments. Here's a rundown of some of the action so far: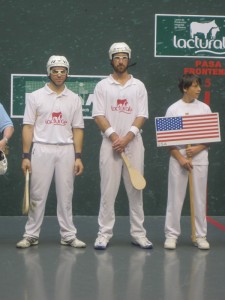 Tony Huarte of team USA is heading into the semifinals. His opponent will either be France (again) or Mexico and its ex-professional phenom "Momo" Medina (the 2000 Under-22 World Champion).  
Related Euskal Kazeta Pelota Championship Reports:
Etchevers of Team USA wins match at Championships
Team USA Women Hang Tough at Pelota Tourney
Basque Cultural Center Pilotaris on Team USA
Huarte's convincing 22 to 17 victory Wednesday was over Julen Etcheverry, a player from the province of Lapurdi. The scoreline made it closer than it seems. If you factor the training that Julen gets from professional handaball players, it shows the achievement that Huarte obtained in securing the number 2 seed.
The winner of Thursday's France-Mexico game will face Huarte. The loser will play La Furia Roja of Spain, who has not lost a 36-meter individual handball championship since 1982. It should setup for an exciting few days at the tournament.
Team USA's 40 to 18 win Wednesday over Venezuela in trinquete individual handball was  a convincing steamroll victory by the Roger Etchevers — known as the "Babybull," and the "Zezena from Irissari."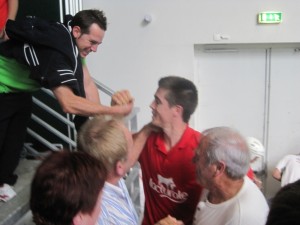 Etchever's victory secured him spot in the semifinals. On Thursday, 26-year-old backup Mattin Garateix will play Spain today in a "seeding" game to see who will be the number 3 or number 4 seed.
All efforts will be made to be the 3 seed because everyone is trying to avoid a semifinal matchup against Loquillo" Lopez, the defending World Champ from Mexico.
The 35 to 5 victory by Team USA against Chile Wednesday was a positive way for the Paleta Cuero men to end in what was otherwise a disappointing tournament.  Josetxo Huarte and Gratien Etchebehere went on to win and give hope for future tournaments.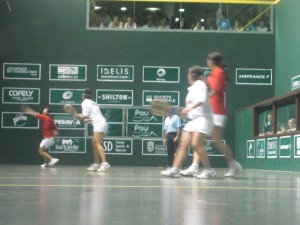 For updates on the championship action, check out the FaceBook page of the United States Federation of Pelota.
Click on the following link for Team USA's Schedule
And click on the following FIPV website for all tournament results.