Team USA Pelota Squad Looks to Advance to Medal Round at Pan Am Games
After opening with a series of wins and some tough losses, the Team USA Basque Pelota players will be battling to advance to the medal rounds at the 2011 Pan American Games being held in Mexico.
Roger Etchevers and Roberto Huarte, who scored strong opening victories in trinkete and 36-meter handball, respectively, will face formidable foes from Mexico on Monday at the Complejo Revolucion in Guadalajara.
Etchevers, who placed fourth in last World Championships in Pau, France, will square off against Heriberto "Loquillo" Lopez, the reigning world champ in trinkete handball. Huarte will go up against Fernando "Momo" Medina, who won the silver medal in 36-meter handball at Pau.
RELATED EUSKAL KAZETA REPORTS:

Team USA Set to Begin Pelota Play at Pan Am Games
Etchevers, Huarte Win Opening Matches at Pan Am Games
Popularizing Basque Pelota
The Mexicans undoubtedly will be buoyed by home-country fans. Nonetheless, with their earlier victories, Etchevers and Huarte need to win just one of their last two preliminary handball matches to advance to the medal round on the competition.
"We have some challenging match-ups against Mexico, but hopefully we can perform positively and use these games to set us up in a favorable way for the medal round," said Xabier Berrueta, president of the United States Federation of Pelota.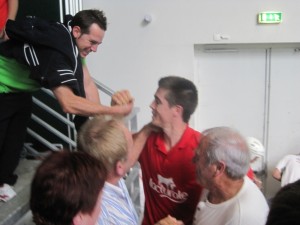 On Saturday, brothers Tony and Josetxo Huarte put up a good fight but lost to Jorge Alacantra and Orlando Diaz of Mexico in 36-meter doubles handball action.
After trailing 5-0 in the first match, the Huarte brothers batted back and closed the gap to 5-4. But in the end, they came up short as the Mexican duo won 10-4 in that match and 10-2 in the second game. It was still a strong performance that featured some exciting volleys against Alcantara and Diaz, the silver medalists at last year's world championships.
The Huarte brothers, who spent their early years in the South San Francisco area, next play on Tuesday against Dariel Leiva and Ruben Moya of Cuba . A win by the brothers will propel them into the medal round.
On Sunday evening, Rolando Tejeda and Daniel Delgado of Texas will be representing Team USA in 30-meter frontenis against a duo from Argentina in preliminary pool play. On Friday, Delgado and Tejeda lost two of their three sets to Daniel Alonso and Cesar Arocha of Cuba.
For complete schedules and scores of all the pelota action, check out the Pan American Games website.
For more information on Basque Pelota, check out the U.S. Federation of Pelota website.