Txoko Restaurant Opens in San Francisco
Txoko restaurant, which lies near an area that was once home to San Francisco's historic Basque community, has opened its doors and features plates inspired by pintxos in the Basque County.
Among the Basque-themed platters featured at the new restaurant are green egg and ham pintxo, grilled lamb loin chop, crispy sweetbreads and roncal chorizo croqueta. The restaurant also serves a Picon Punch, a popular Basque cocktail. Click here for the Txoko menu.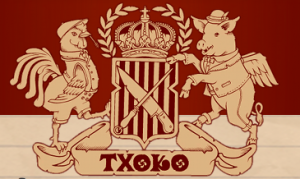 Txoko is located at 504 Broadway near Columbus, in building that was once home to the popular Enrico's restaurant.
Related Euskal Kazeta Reports:
Basque Restaurant List
New Basque Restaurant to Open in San Francisco
Renowned Chef Gerald Hirigoyen at Basque Cultural Day
Basque and French Basque Recipe Favorites
The new restaurant is run by Ian Begg and Ryan Maxey, who previously operated the popular Naked Lunch takeout sandwich shop inside Enrico's.
Txoko refers to Basque gastronomical societies, where people gather to drink wine, socialize and cook sumptuous dishes. Pintxos are bite-sized appetizers often eaten in bars and taverns in the Basque Country.
The new restaurant is near a cluster of former boardinghouses and handball courts where Basques congregated to socialize and share their unique culture. San Francisco is home to the oldest surviving Basque community in the West.
Other Basque San Francisco-area restaurants include Piperade operated by Chef Gerald Hirigoyen, as well as the popular restaurant at the Basque Cultural Center in South San Francisco. For a complete list, see the Euskal Kazeta restaurant page.