The contribution of Basque women to the advancement of the Basque immigrant community in the U.S. will be celebrated on Saturday, Oct. 21 at Basque Cultural Day in South San Francisco.
Basque Cultural Day, which is organized every two years by the Basque Educational Organization (BEO), will take place at the Basque Cultural Center from 1 – 5 p.m., with a cocktail hour and a Boarder's Dinner following the speakers. The day's event is titled "Euskal Andreen Egintza Amerikan," which means "The Impact of Basque Women in America" in the Basque language of Euskera. The Cultural Day lectures are free, but the BEO is asking people to indicate their intent to attend to help them plan for the event.
Women have been crucial to the success of the Basque diaspora in the United States. They ran Basque boardinghouses in the West, where young Basque immigrant men often lived for several years. With their husbands or sometimes alone, Basque women typically cooked all meals for the boarders and acted as surrogate mothers. They shepherded the young men, typically ages 17 to 25, through the rigors of adapting to life in the United States. This included helping them with government paperwork, translating for them and sometimes acting as their bankers. Eventually, as the need for women to work in the hotels and restaurants grew, more Basque women immigrated as well.
READ ABOUT PAST BASQUE CULTURAL DAYS
While the women played important roles, they were often under appreciated for what they did. Basque women helped maintain Basque identity in the American West by perpetuating the Basque language Euskera with their children and in their communities, and by carrying on culinary traditions and helping organize cultural events.
Several prominent Basque women will speak about the Basque boardinghouse experience, including Agna Iriartborde, who once ran Des Alpes Hotel in San Francisco with her husband, Bernadette Berterreche Helton, who currently runs Centro Basco restaurant in Chino, Calif., Jenny Maitia Poncetta of the Woolgrowers Restaurant in Bakersfield, Calif., Marie Louise Lekumberry, owner with her brother of J.T.'s Restaurant in Gardnerville, Nev. and Meggan Laxalt Mackey, of the French Hotel in Carson City, Nev. The panel on boardinghouses will be led by Jeri Echeverria, author of an important book on Basque boardinghouses, "Home Away from Home." (To purchase Echeverria's book on Amazon, click here.)
Patty Miller, former director of the Basque Museum, will talk about an exhibit from the Basque Museum in Boise, "Inner Strength: Portraits of Basque Women." A portion of this exhibit will be on display at the Cultural Day event.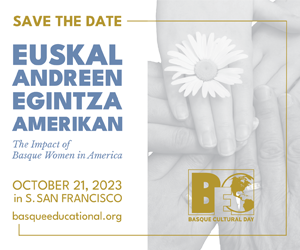 The third and final session will be a discussion about the changing role of Basque women in the United States and how they continue to perpetuate the Basque culture. The panelists include Argia Beristain, VP for Development at Boise State University, Esther Ciganda, Educator and Entrepreneur from Moses Lake, Wash., Madalen Bieter, Basque radio show founder from Boise, Idaho, Boise professor Nere Lete and artist Zoe Bray of Reno, Nev. The panel will be led by Marie Laxague Rosencrans, a marketing executive and Basque Cultural Center director.
A traditional Boarders dinner, recalling the dinners that used to be served family style at Basque boardinghouses will be served in the evening. Reservations are required. Click here to make your reservation.
For more information about any of the day's activities, contact the Basque Educational Organization at info@basqueeducational.org.
Basque Cultural Center
599 Railroad Ave.
South San Francisco, Calif.