The Nevada Historical Society in Reno is hosting an exhibit on Basque aspen art rubbings.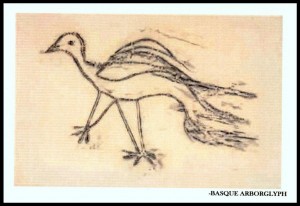 The rubbings are made from the carvings left by Basque immigrants who worked as sheepherders. In the summer, Basque herders trailed with their sheep across the mountain ranges, taking advantage of abundant streams and lush pastures.
RELATED EUSKAL KAZETA REPORTS:
Video — Basque Tree Carvings Explored
Basque Tree Carvings – A Living Legacy Threatened
Interactive Map — Basque Tree Carvings in the Sierras
Herders typically searched for aspen groves, because they knew that grassy meadows would be nearby. Many carved their names and etched drawings on the soft white bark of the aspen trees.
Today, these carvings a a living legacy to the men who endured a lonely lifestyle as they roamed with their flocks across the Great Basin and mountain ranges of the West from the 1800s to the 1960s. But the carvings are endangered as insects and disease ravage aspen groves.
Husband-and-wife team Phil and Jean Earl originally gathered the rubbings in hopes of helping to preserve the Basque culture, since some of the trees featuring the carvings have died. Phil Earl was a former curator for the Nevada Historical Society Museum. The Earls used rubbing wax to bring out the carvings on muslin cloth. They have gathered their rubbings in a book, entitled "Basque Aspen Art of the Sierra Nevada."
The aspen rubbing exhibit will run through April 14. The historical society address is 1650 N. Virginia St. in Reno.
For more information, call the historical society at (775)) 688-1190, ext. 0 or check out the group's website.