Basque Chef Takes Part in Haiti Quake Charity
Basque Top Chef contestant Mattin Noblia will be taking part in a nationwide charity effort with other chefs from the popular reality TV cooking show to help Haiti earthquake victims.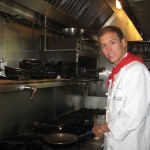 Hearts for Haiti was the idea of Ron Duprat, a Florida-based chef and Top Chef contestant. On Valentines Day, all participating chefs and restaurants will donate 10% of their proceeds to Haitian relief efforts.
Noblia, owner of Iluna Basque restaurant in San Francisco, said he agreed to help victims in the Caribbean island nation after he was approached by his friend Duprat, who was born in Haiti. The January quake has prompted a number of relief efforts.
"Every little bit helps," Noblia told Euskal Kazeta.
Noblia said he will be holding a separate charity fundraiser at Iluna Basque on Feb. 10 during which 25% of the proceeds will go toward helping victims in the quake-ravaged country.
Iluna Basque, with its large vertical windows, has an impressive view of the grassy, tree-lined Washington Square in San Francisco's chic North Beach neighborhood. Noblia opened the restaurant six years ago.
Noblia, who sports a red scarf, is proud of his Basque heritage. He went to an ikastola, or Basque school, until he was 12. The Basque lauburu is prominent at the restaurant and the red, white and green ikurriña hangs over the kitchen.
"I want to be known as the French Basque chef with the red scarf," Noblia said in an interview in July.
Related: