Basques in the 2022 World Cup
Several Basques are battling for glory with their teams in the 2022 World Cup, including two brothers playing for different countries.
Coach Didier Deschamps, who has led the French squad for a decade, is one of only three men to have won the World Cup as a player and a manager. At least four Basques are on Spain's team and several Basques are playing with squads from Argentina, Uruguay and Ghana. Brothers Inaki and Nico Williams play for Ghana and Spain, respectively.
Argentina
Nicolas Otamendi
Nicolas Otamendi, who is of Basque descent, has played for Argentina's national team since 2009 and been on World Cup squads in 2010, 2018 and 2022. He is a center back for the Portuguese team Benfica. Many Basques immigrated to Argentina in the late 1800s and early 1900s and a large percentage of the population has Basque heritage.
France
Didier Deschamps – Coach
Didier Deschamps leads the 2022 French team, which beat Australia 4-1 in its opening match of of the 2022 World Cup. France won the 2018 World Cup under his leadership.
Deschamps was born in Baiona, France. After a short passage at rugby in the Biarritz Olympique club, Deschamps started his football career at the amateur club Aviron Bayonnais while still at school. Scouts from Nantes signed him in 1983. He then moved to Marseille, where he earned his first honors as a professional player, winning two French league titles and then the Champions League in 1993, becoming the youngest captain ever to lift the trophy. He continued on to play defensive midfielder for clubs in France, Italy, England, and Spain.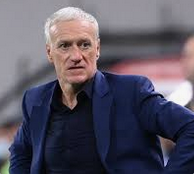 Deschamps first played for the national team in 1989, but France did not even qualify for the World Cup in 1990 and 1994. Deschamps, one of the few remaining veterans after several were dropped, was chosen to lead what would later be called the "Golden Generation." He first captained France in 1996 and he led the team when they won the World Cup in 1998. He continued as captain when they won the Euro Cup 2000.
He retired and immediately moved to management. He coached Juventus and later Marseille. He was chosen as coach of the national French team in 2012. He has continued as coach, leading the French team to victory in the 2018 World Cup.
"There is a joke that goes `how do you get 20 Basques into a Mini?'," Deschamps told the Independent in 1999. "'Tell them they can't do it.' Well, that is me, a Basque. I decide I want to do something and I go for it. It comes from living there. In the Pays Basque, we call it valeur."
Ghana
Inaki Williams
Inaki Williams was born in Bilbo, Bizkaia (Spain) of Ghanian parents. He grew up mostly in Iruñea-Pamplona and has played for Athletic Bilbao since age 18. He is named Inaki after a priest who helped his family when they first arrived in the Basque Country after a perilous journey from Africa, according to a story in the Guardian. His brother Nico Williams, who is eight years younger, also plays for Athletic Bilbao.
"My parents are from Accra and I really enjoy going," said Inaki Williams in the 2021 article. "But I wasn't born or raised there, my culture's here, and there are players for whom it would mean more. I don't think it would be right to take the place of someone who really deserves to go and who feels Ghana 100%." However, in July 2022, Williams announced that he was making himself available for his parents' home country in time for the 2022 FIFA World Cup. In September he received his first call-up, for friendlies with Brazil and Nicaragua.
"I told my grandfather, who told me it would be a dream for him to see me in the national team jersey," said Williams in a Yahoo report about a recent trip to Ghana. "He is 90. He said he doesn't have long to live, but that he would like to see me play in a World Cup with the national team.
"When he told me those words, I didn't have to think any more," he said.
READ RELATED STORIES
Basques in the 2010 World Cup
A Basque Team during the Spanish Civil War Brings Glory
Spain
The Spanish team, which trounced Cost Rica 7-0 in its opening match Nov. 23, includes four Basque players. Most Basque players who play for Spain come through two venerable Basque clubs, Athletic Club Bilbao and Real Sociedad (Donostia), both of which have been gaining success throughout the decades. Real Sociedad gave up the strict rule of accepting only Basque players in 1989, while Athletic Bilbao continues to follow that rule.
Cesar Azpilicueta
First is veteran Cesar Azpilicueta, a right back and captain of the English team Chelsea. This is Azpilicueta's third World Cup. He is born in Zizur Mayor in Nafarroa and started his soccer career playing for Iruñea's Osasuna team. He also played for Marseille before moving to Chelsea in 2012.
Aymeric Laporte
Aymeric Laporte, who was born in Agen, France, is playing for the Spanish national team. When he was only 17, he was recruited by Athletic Bilbao. By arrangement with the club, he spent a season with Aviron Bayonnais in France as he was too young to move outside France at the time. He has stated that he is of Basque descent through his great grandparents. He played for Athletic Bilbao from 2012 to 2018, when he was recruited by Manchester City, where he is a defender. Spanish national team coach Luis Enrique asked him to become a Spanish citizen due to his many years with Athletic, and FIFA approved the switch. Laporte said he made the decision after the French team did not call on him to join its national team.
Unai Simon
Unai Simon, goalkeeper for Athletic Bilbao, is the starting goalkeeper for the Spanish national team. The 25-year-old is from Vitoria-Gasteiz, in Alaba.
Nico Williams
Nico Williams, 20, is playing for the national team for the first time. The winger was born in Iruñea-Pamplona, but his parents are from the African country of Ghana. He played for youth clubs in Irunea until he joined Athletic Bilbao in 2013. He is brother to Inaki Williams, who also plays with Athletic Bilbao and is playing for the Ghana national team in the 2022 World Cup.
Uruguay
Giorgian de Arascaeta
At least one member of the Uruguayan team is Basque. Giorgian de Arascaeta, who plays for the Brazilian team Flamengo, has played for Uruguay's national team since 2014. The attacking midfielder has a nickname of "Arrascaneta" for his "caneta" or nutmeg ability to kick the ball through an opponent's legs. He is of Basque and Italian descent. Several Uruguayan players in the history of the World Cup have been of Basque blood.
If you know of any Basque players that we missed, feel free to add them in the comments.