Basque Pala Games among the Fun in Boise This Weekend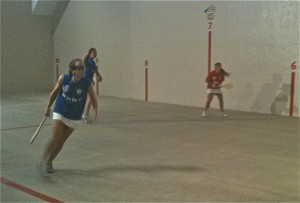 Women and Pelota in Boise
This weekend in Boise will be full of Basque festivities, as the annual San Inazio Festival gets underway. Among the weekend's activities are men and women pilota competitions in the Boise fronton in the ground floor of Anduiza's old boardinghouse.
Basque women keep up their culture in Boise by playing pala at the fronton. Sadie Babits at Boise State Public Radio produced a wonderful piece on women playing pala. They play regularly at the Anduiza fronton at 619 Grove St., which is currently the oldest Basque fronton in the United States.
The Anduiza fronton was purchased for use by the Basque community in 1992. The fronton was built as part of a Basque boardinghouse by Juan Cruz and Juana Anduiza in 1912. Except for minor changes, the building has been kept close to its original incarnation.
The Boise Basque community embraced the fronton and created a fronton association. Members pay dues, which help with maintenance of the building. Most of them don't play handball, but pala, with a thick wooden paddle.

More details on the weekend events: EK Event Calendar
2012 San Inazio Pilota Invitational
July 27th and 28th – Boise, Idaho
Men
Gabriel Dalia/ Matthew Etchepare
Gratien Etchebehere/ John Krakau
David Indart/ Ben Donahue
Edu Sarria/ Xabi Ocafrain
Jeremy Malone/ John Falxa
J Boyd /Christian Curutchague
Women
Michelle Friebel/ Henar Chico
Esther Ciganda/ Terri Elordi
Sarah Ober/ Jeanette Cain
Ysabel Bilbao/ Yvonne Irey
AnneMarie Mansisidor/ Carmen Achabal
Teresa Iparraguirre/ Jill Goodson
Tentative 1st Round Schedule: (Friday July 27th)
9am Dalia/ Etchepare vs. J Boyd/ Curutchague
10am Etchebehere/ Krakau vs. Malone/ Falxa
11am Indart/ Donahue vs. Sarria Ocafrain
12:30 Break for Lunch
2:30pm Friebel/ Chico vs. Iparraguirre/ Goodson
3:15pm Ciganda/ Elordi vs. Mansisidor/ Achabal
4:00pm Ober/ Cain vs. Bilbao/ Irey
Evening 2nd Round and Semifinal Games
5:30pm Women's 2nd Round game
6:15pm Men's 2nd Round game
7:15pm Womens Semi-Final game
8:00pm Mens Semi-Final game
9:00pm Womens Semi-Final game
9:30ish Mens Semi-Final game
Any questions, please contact edusarria@hotmail.com