My family and I have driven from Los Angeles to Boise, Idaho several times over the years, mostly for the big Basque festival Jaialdi that takes place in Boise, Idaho every five years. The last time we made the trip, in summer 2022, my husband and I were heading to Boise because I had some book signings scheduled, timed to coincide with the San Inazio Festival at the end of July. The book signings were for my latest book, "Jaialdi: A Celebration of Basque Culture."
Since we often stop at lots of Basque places, we decided to make a video for our viewers to show them all the good Basque food along the way. This is the story behind the video.

Los Angeles Area
While Los Angeles was the location of the first Basque-American community in the American West back in the late 1800s, today no actual buildings remain of that original neighborhood in the downtown area. A few Basque restaurants have existed in Los Angeles over the years, but right now to find the Basques in Southern California, you have to drive an hour east to Chino, Calif.
Chino was home to numerous Basque dairies and ranches, which is how a Basque community developed here. The Chino Basque Club center and a couple of Basque restaurants are located here: Centro Vasco and Taylor's Cafe. There's also the Glendora Continental Restaurant in nearby Glendora.
First Stop – Bishop, Calif.
Erick Schat's Bakkery
763 North Main Street
Bishop, California 93514
(760) 873-7156
Erick Schat's Bakery, established in 1938, serves a sheepherder bread whose recipe came from Basque sheepherders who trailed their sheep in the Owens Valley. The sheepherders would bake the hand-shaped bread in stone ovens. The bakery touts the fact that their sheepherder bread is produced with artesian well water and all natural ingredients, without preservatives, and is baked in stone ovens. I guess they figured those Basques were onto something. The rest of their baked goods are great as well.
On your way to Bishop from Southern California, consider stopping at the southeast corner of the intersection of Highways 395 and 190, at the town of Olancha. There is an old broken down stone oven there. The history of this old oven is unknown, but it's been there for years. Who knows? Maybe some Basque sheepherders once used it for their bread.

Second Stop – Gardnerville, Nev.
JT's Basque Restaurant and Bar
1426 Highway 395,
Gardnerville, Nev.
(775) 782-2074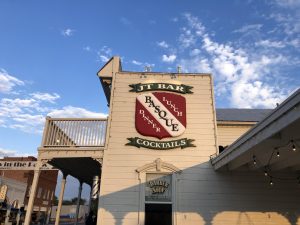 Gardnerville, located just 40 minutes south of Reno, Nev. has been home to a Basque community since the early 1900s. Ranchers have continued raised sheep here since that time and Basques have been involved in sheep ranching since the beginning.
Along with the neighboring town of Minden, Gardnerville is home to a population of about 10,000 set in the beautiful Carson Valley, with the Carson mountain range towering over the open valley. Many working ranches still exist in this area. Gardnerville has had several Basque restaurants over the years, and JT's is one that has been here the longest. The restaurant has been owned by the Lekumberry family since 1960. They still do things the old way, with the Basque family style of plenty of dishes to be shared by a group.
Other places in the Gardnerville area with Basque history include the former Overland Hotel, now the Overland Restaurant, and the French Bar. The Villa Basque Cafe and Deli in nearby Carson City, owned by Pete and Martha Coscarart, is known for its Basque chorizos and other Basque food.
Usually we stay with friends in Reno, but someone at their house had Covid, so we spent the night at a hotel in Gardnerville. In the morning, we had a quick breakfast at a coffee place and then headed to Winnemucca for lunch.

Third Stop – Winnemucca, Nev.
Martin Hotel
94 West Railroad St.
Winnemucca, Nev.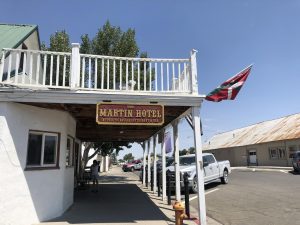 Winnemucca was probably the earliest and most significant Basque settlement in Nevada after Basques began arriving in the state in the 1870s. Sheep ranching was the main reason they came here. Ranching continues to be an important livelihood in the region, although gold mining has become more significant in recent years.
Winnemucca has had its share of Basque restaurants over the years. The oldest existing restaurant is the Martin Hotel, which opened in 1898 and boasts a historical marker. It did not become Basque until 1913, when Augustine and Elisee Martin took over the boardinghouse and restaurant. It continues to serve Basque food family style today. Another Basque restaurant in this town is Ormachea's. The Winnemucca Hotel was a Basque landmark in this town for many years, but unfortunately it was finally torn down between 2015 and 2019.
Elko, Nevada is another good stop for good Basque food, in particular the Star Hotel. We've been to Elko, particularly for the National Basque Festival on the Fourth of July weekend, but Elko is not on the way to Boise, so we did not stop here on this trip.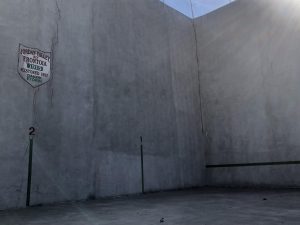 Fourth Stop: – Jordan Valley, Oregon
Handball Court and Heritage Museum
Bassett Street (Hwy 95)
Downtown Jordan Valley
This tiny rural outpost had a such a significant concentration of Basques that for many years, a sign stood by the highway claiming "Jordan Valley, Home of the Basques." Several Basque residents used local sandstone to build a handball court here in 1915, plus several boardinghouses. The fronton was renovated in 1997 and is definitely worth a visit. Bring a tennis ball or other ball to enjoy this court to its fullest. It is located right in the middle of town, on the east side of Hwy 95 where it makes a sharp left turn north.
The ION Heritage Museum is located just a few steps away, but has limited hours. The stone building was once the home and boarding house of the Elorriaga family, including the late powerful businessman John Elorriaga. It is a history museum of the local area and provides insight to a building constructed by hand in the early 1900s. If you definitely want to make a stop here, call for hours at (541) 586-2984.
Most of the local residents and business owners are at least part Basque in this town. There have been Basque restaurants here in the past, although there are none right now.
Final Stop – Boise, Idaho
Bar Gernika
202 S. Capitol Blvd.
Boise, Idaho
(208) 344-2175
Basque Market
608 W. Grove St.
Boise, Idaho
(208) 433-1208
Ansots' Chorizos and Catering
560 W. Main St.
Boise, Idaho
(208) 336-9166
Epi's Basque Restaurant
1115 N. Main St.
Meridian, Idaho
(208) 884-0142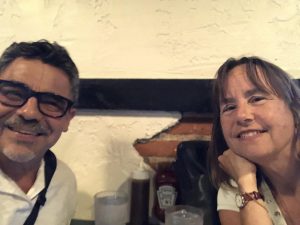 Boise has had a strong Basque community, including a cluster of Basque boardinghouses in the downtown area, since the early 1900s. Today, Boise's Basques are in their second and third generation removed from the immigrant generation, but they are still heavily connected to their culture. They have saved several of the historic businesses on Grove Street in downtown Boise and turned the area into a thriving cultural location known as "the Basque Block." Also located here is the only Basque museum in the U.S. and the Basque Center, a bar and clubhouse open to the public, where the local Basques host their social events.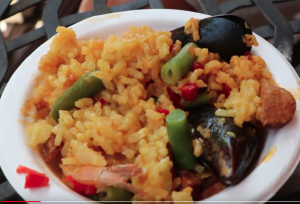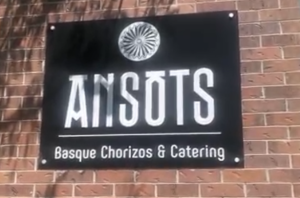 Local restaurateur and musician Dan Ansotegui is responsible for starting two of the Basque eating places on the Basque Block, Bar Gernika and the Basque Market, and currently runs Ansots Chorizos, a block away. His sisters, Chris and Gina, started Epi's Restaurant, a wonderful restaurant in nearby Meridian. We ate at all these places and they were all wonderful.
While we didn't make it to Leku Ona, a fine dining restaurant on the Basque Block, for the video above, we have eaten there before and it's a great spot to enjoy the Basque cuisine experience.
If you'd like to read more about the history of the Basques in many communities of the United States, you can buy my book, "Travel Guide to Basque America."
My latest book, "Jaialdi: A Celebration of Basque Culture," was originally published to coincide with the Jaialdi festival of 2022. The festival had already been delayed twice (it was held in years ending in 0 and 5 since 1990) because of the Covid pandemic. Early in 2022, the festival was cancelled again due to continued pandemic restrictions. The book, which includes over 70 photos of this amazing Basque cultural event was already scheduled for publishing. To buy it on Amazon, click here.
For a list of Basque restaurants across the U.S., click here.