Basque Rockers Recording Album in L.A.
By Nancy Zubiri
Berri Txarrak, possibly the biggest name in Basque rock, has brought its brand of music to one of the hippest neighborhoods in Los Angeles.
The group is working with well-known music producer Ross Robinson, staying at his plush oceanfront home in Venice Beach, where they have been recording a new album in a small studio on the first floor.
"It is like a dream to record an album with Ross," says Gorka Urbizu, the group's singer and songwriter.
Urbizu has been the heart and soul of Berri Txarrak since it started in 1994, while other musicians have come and gone. The group is currently a trio, although it has been a foursome in the past. Urbizu, 34, plays guitar, while David Gonzalez, 32, plays bass and Galder Izagirre, 37, plays the drums.
The hard-rock group, which has 23,000 fans on Facebook, attracts huge audiences in the Basque Country, selling out most of their concerts. But in recent years they've spent much of their time abroad. In the last three years alone, they've played 200 concerts in more than 18 countries in Europe, Asia and South America.
Their music has been well-received, despite the fact that it is in Euskera, an endangered language spoken by less than 1 million people. "That's the power of the music," Urbizu says. "It can transcend any barrier."
During an interview in Spanish with Euskal Kazeta at Robinson's house, Urbizu said they approached Robinson because they thought it was the appropriate time in their career to work with him. The trio noted that recording their seventh album with the Venice producer is completely different from their previous experiences. In the past, they rented studios and paid sound technicians. The goal was always to record as quickly as possibly. Recordings never took more than 20 days, max. And the sound technicians "never gave their opinion about what we did," said Izagirre.
They're scheduled to record their current album with Robinson in 50 days. That's a leisurely pace, they note, with time off to do some sightseeing.
"It's the first time we've been so relaxed making an album," said Urbizu.
In addition, Robinson has a different work ethic. Robinson doesn't speak Euskera, but he asks them explain the meaning of each song's lyrics. He wants to understand the essence of the songs before they record because it's important to him, the musicians noted. They work song by song, playing each one several times until they get it right. Robinson always offers suggestions for improvement.
"Sometimes it's obvious that the changes are better," said Izagirre. "Sometimes it's harder to accept the changes he suggests." However, they acknowledge that Robinson has experience that they don't have, and they usually go with his suggestions.
Robinson is one of the best producers of hard-rock in the world, notes Pau Vargas, Berri Txarrak's manager, who has joined them for part of their Venice sojourn. Robinson earned fame for having discovered several big name hard-rock groups such as Korn, Limp Bizkit, At the Drive-In and Glassjaw.
"It's an honor to work with him," emphasized Izagirre. "It's unusual," he notes, because Berri Txarrak is small and records with independent labels, while Robinson can work with anyone he wants.
The Venice producer walks in to the dining area while the interview is in session, making jokes with the group as he heads to a Sunday outing. The musicians' English is minimal, but they communicate and joke nevertheless. "He likes the idea that we sing in Euskera," said Izagirre.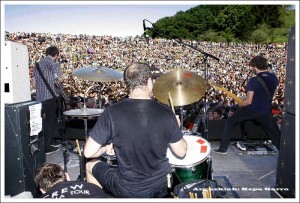 It's difficult for the Basque rockers stand out in their genre, Gonzalez pointed out, because you're one among millions. And singing in a little-known language such as Euskera makes it even more difficult.
They would like commercial success, said Urbizu, "but not at any price. We must sing in the language in which we feel comfortable." Their manager is determined to make sure the popular Basque group succeeds, and points out that they already have music available on Amazon, Itunes and Spotify.
When asked how they would classify their music, the three musicians smile. They hate to be put in a box. Their style varies. They're not a punk rock group, although they sing punk songs. They feel most comfortable calling their music "hard rock" or "alternative rock." In January, Berri Txarrak was nominated for the 10th Annual Independent Music Awards for Best Punk Song for their song "Folklore."
For the most part, their music is dark and pessimistic, admits Urbizu, who has been writing lyrics since he was 14. Hard rock is a way of letting off steam. The songs for the current album are a bit lighter and more poetic. He writes all the songs, but the music is a collaboration among the three of them.
Berri Txarrak has its home base in Lekunberri, in Nafarroa, where Urbizu is from. Izagirre is from Irun and Gonzalez is from Bilbao. They met on the hard-rock circuit, which in the Basque Country is small, but nevertheless strong.
"We all know each other," said Gonzalez, who previously played with PI L.T., while Izagirre played with the group Dut and Kuraia. Izagirre toured the U.S. for the first time in 1994, while playing with singer Fermin Muguruza. Berri Txarrak has been to the U.S. before, playing for the Basque communities in San Francisco and Boise, in 2005.
This is their third foray into the U.S. for recordings. Their last album was "Payola," which they recorded in Chicago, and the one before that, "Jaio.Musika.Hil," was mixed in Kansas. Their most popular songs are "Denak Ez Du Balio," which was a collaboration with Tim McIlrath of the group Rise Against, "Oreka" and "Oihu."
What is the name of this album? They don't know yet. And some of the song titles? Those haven't been decided either. It's still a work in progress, they note, three weeks into the recording. However, what is clear, they conclude, as they look out the front window at the waves breaking on Venice Beach, the album will definitely reflect the idyllic setting of the recording.
Berri Txarrak's Blog of their Venice recording experience, in Euskera and Spanish.