My husband and I just spent a month in Donostia (San Sebastián), within walking distance of the Alde Zaharra neighborhood (the Old Town or Parte Vieja). Where do you think we went for dinner just about every night? Yup, you got it. To the pintxo bars of Alde Zaharra. Not only do you find amazing food there, but the atmosphere, with so many people in the streets until very late, is exhilarating.
What is a pintxo? Well, it's a one or two-bite munchie, typically meat or seafood-based, and usually served on a slice of fresh baguette. San Sebastian and the surrounding area is known as a culinary destination and boasts one of the highest number of Michelin Stars per square kilometer. While most of these renowned restaurants are prohibitively expensive for most visitors, a meal of a few pintxos and an accompanying drink or two is very affordable and a culinary delight. The price on the average pintxo we ate was two to three euros.
The more time we spent there, the more often we ventured into other neighborhoods. We visited at least 20 or more pintxo bars, but decided to choose the top five pintxo places in Donostia overall. As we tried to decide which ones were best, we went back to some places a second time to confirm our top choices. If you hit these five places while you are in Donostia, you will be happy. And if you want to try making some pintxos at home, check out chef Gerald Hirigoyen's pintxo cookbook from Amazon.


Tips for Pintxo Hopping
Some things we learned along the way: Order hot made-to-order pintxos that come from the kitchen. Don't pick the cold pintxos that are sitting at the bar, unless you are there early and can tell they are fresh. Also, try to find out what pintxos a place is known for and order those. You can find out by looking at reviews online or asking people eating alongside you. We got great recommendations from fellow customers.
We also rated bars on their atmosphere. We scratched places that were just too crowded. It's not fun to be battling for a small space on a table, although we did share tables from time to time. We also realized that the places with lots of locals had a lot more appeal. We enjoyed seeing the bartenders chatting it up with customers.
Our choice for the best five pintxo bars, for food and atmosphere, in no particular order:
Txepetxa
Arrandegi Kalea, 5, Alde Zaharra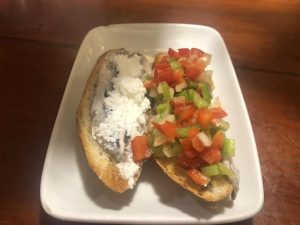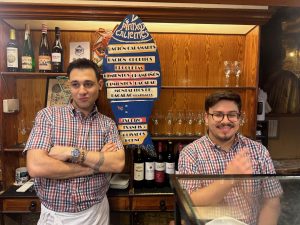 This place is a gem. First of all, I never thought I would enjoy anchovy pintxos. I never eat anchovies (antxoak) at home in the U.S. But fresh anchovies are the main ingredient of every pintxo here and this place was highly rated, so we went. I was blown away. I like anchovies. At least the way they make them there—served on a piece of warm toasted bread. My favorite was the Jardinera, which features anchovies covered in diced red and green peppers and flavored with salt and olive oil. Txepetxa is family owned and has won a ton of awards over the years since it was established in 1925. (History of Txepetxa in Spanish)
Another reason we liked this place is that a lot of locals come there. You could hear some of them speaking in Euskera with the bartenders and the bartenders obviously knew them. There's something comforting in knowing that it's not just tourists trekking through with no connection to a place.
Borda Berri
Fermin Calbeton Kalea, 12, Alde Zaharra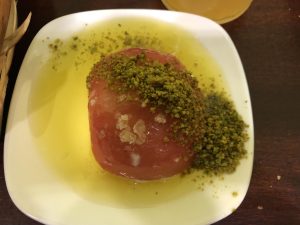 We didn't get to this place until the end of our visit and I was sorry. The atmosphere here was great. You could tell which were the most popular pintxos because of how often they were called out loudly by the bartenders to the kitchen. I wondered how the cooks kept track. The yelling of the orders was part of the fun atmosphere.
They only had 12 pintxos listed on the chalkboard menu. This means they don't try to do too much, and by focusing their energies, they make a better product.
We chose the tomate relleno de mozzarella (mozzarella stuffed tomatoes) with grated pistachio on top, plus the cochinillo (pork rib) kebab. They were both amazing. We definitely would have come back to this place and wished we had visited it earlier.

Bar Paco Bueno
Kale Nagusia, 6, Alde Zaharra
There's only one pintxo this place is noted for and it makes a visit to this bar worthwhile. It's the gambas a la gabardina. You can see the awards on the wall for this pintxo. They have other plates on the menu, but everyone we saw there was eating the gambas. It's a batter-dipped shrimp—not greasy but delicious. We were planning to have only one plate each before moving on to the next bar, but that was impossible. We had to have a second round.
This was another place with a lot of locals. The bartenders spoke to several people in Euskera and they clearly knew many of the customers. They were super friendly, letting us know we would get two gambas (shrimp) per plate and if we didn't get the first round coming out of the kitchen, there would be another one soon after. We talked to one local older couple who had stopped in for their gambas before heading off to a show. The bartenders told us this place closes on Thursday evenings and Fridays, which is why we kept missing it.
As we looked for new pintxo places, we discovered some great local spots in the Gros neighborhood. The area is walking distance to Alde Zaharra, just on the north side of the Urumea River and next to Zurriola, the famed surfing beach.
We ate at several Gros restaurants and found that chefs there aimed for trendier cuisine and were not afraid to experiment with traditional pintxo recipes. Here's our top two pintxo bars in Gros:
Zabaleta
Zabaleta Kalea, 51, Gros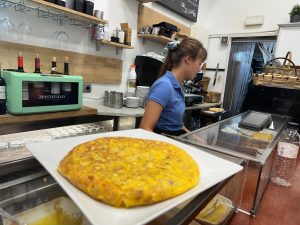 Zabaleta is known for its tortilla de patatas (potato omelet) . They are clearly among the city's top places tor this traditional Basque omelet. We loved Zabaleta's location in the less crowded Gros neighborhood on a corner with a large covered outdoor area with plenty of tables. If you don't want to wait for a table (there's usually a line), you can often cram inside and eat at a small table or at the counter without waiting.
The tortilla, a bit runny, is so good. We added "raciones," or plates, of amazingly delicious green peppers and calamari. People stop in continuously to pick up tortillas to take home. Pick up orders get tortillas served in a cool box stamped with the bar's logo and name.
Ramuntxo Berri
Peña y Goni Kalea, 10, Gros
We ended up at this place after we saw a YouTube video about pintxos in the Gros neighborhood. The pintxo being highlighted was a "carbon de brie," a square of brie deep fried and covered with poppy seeds. It comes with a sweet tomato-like sauce that makes for a sumptuous combination. This was good, but it wasn't my favorite pintxo here. I was simply impressed that every single dish was exquisitely prepared and delicious and the bread was so fresh. We also had a delicious dish of txipirones (squid), which was covered with caramelized onions. We came back a second time and had traditional txistorras, or tasty thin sausages, and croquetas (bechamel-filled fried bites usually flavored with jamon, but sometimes other goodies) It's also a full-serve restaurant, and because of its location away from the maddening crowd, you can usually find a seat here and eat a full meal.
READ MORE STORIES ON THE BASQUE COUNTRY
Where NOT to Go:
We rejected outright two of the top places that are included in many lists: Gandarias and Cuchara de San Telmo.
We walked to Cuchara at least four or five times to see if it was open. Turns out they took a few vacation days right after the Festival of San Sebastián, known as Aste Nagusia (Big Week). Our first and only encounter was a line out the door and not a lot of room to eat. We got a couple of very good recommended dishes – the cochinillo (roasted pork) and the pulpo (octopus), but the thought of fighting our way back to the bar to order more was too much. The best part of our short visit there was running into a good friend, but we all decided to go somewhere else to eat in peace and have space to chat.
Gandarias was similar. They are on a corner and they've expanded their space by placing several tables around the outside of the building. The friendly staff tries to accommodate the many customers by handing out restaurant pagers to notify people who are standing outside. Again, just too crowded for us, and the pintxos, while decent, were not worth fighting the crowd for. We went back a second time, earlier in the evening when it wasn't so crowded, but the pintxos were not much better than those we had in other places. If you really absolutely want to eat here, check out their menu (in four languages) and order several rounds of pintxos and drinks right off the bat, to avoid reordering.