4 of Top 100 Restaurants in the World are Basque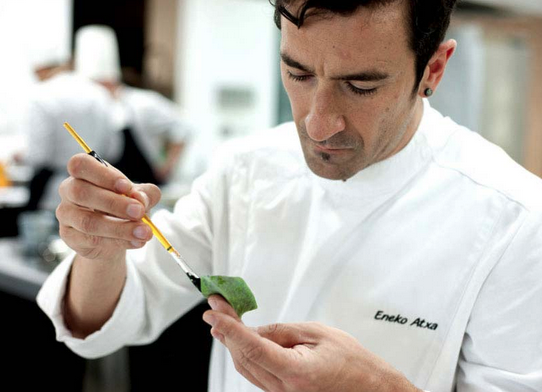 The four Basque restaurants that made it on the 2022 list of the top 100 restaurants in the world continue to maintain their appearance on the list for 2023.
Asador Etxebarri, in the small town of Atxondo near Bilbao, kept its spot as the best Basque restaurant in the world, moving from Number 6 of the world's best 100 restaurants up to Number 4. All of the selected Basque restaurants are located in Hegoalde, the Spanish side of the Basque Country. The list was announced June 20 on the website The World's 50 Best Restaurants.
In 2021, six Basque restaurants were on the list and in 2019, there were seven restaurants in the top 100.
The best Basque restaurants in the world are:
1.
Asador Etxebarri
Plaza de San Juan, 1
Atxondo, Bizkaia
Asador Etxeberri continues to rank as the top Basque restaurant in the world. Now, it is number four on the list of top 100 restaurants. Located in the Atxondo Valley in Bizkaia, the restaurant specializes in food cooked over an open grill. Chef Bittor Arguingoniz was raised in the tiny nearby mountainous farming community of Azpe. According to the restaurant's website, Arguingoniz is self-taught and has only worked in his own restaurant, developing his grilling method himself. He also built the ovens and tools he uses to cook almost anything over an open fire. The restaurant uses local woods for its grills. One Michelin star. A book on the restaurant's grilling method's was published in 2017. Click here to buy Etxebarri.
In 2021, Arguingoniz was selected for the Estrella Damme Chef's Choice Award. This award is given to the top vote-getter among chefs, distinguishing him as the best-loved chef on the planet that year. His somewhat shy and reserved demeanor is applauded and some of his mentees have gone on to open award-winning restaurants. Click here to read what he has to say about grilling over wood.
2.
Elkano
Herrerieta Kalea, 2
Getaria, Gipuzkoa
Elkano dropped from spot 16 to spot 22 for 2023. Nevertheless, this restaurant, located in the small seaside town of Getaria halfway between Bilbo and Donostia, continues to appeal to guests from all over the world for its grilled turbot fish, served whole.
The restaurant took its spot as the second best restaurant on the list last year, switching places with Mugaritz. The grills are located just outside the dining room. Fish soup, richer and darker than any you have tasted before, is also a must-have. One Michelin star. In 2018, it was in spot 77, so this fish restaurant has moved up quickly.
3.
Mugaritz
Aldura Aldea, 20
Errenteria, Gipuzkoa
Mugaritz was Number 31 on the global list this year. Owned by chef Andoni Luis Aduriz, it's located in a renovated farmhouse in Errenteria (Renteria), near Gipuzkoa. Aduriz was selected this year for the Icon Award "for his tireless efforts in advocating for a socially and environmentally committed gastronomic industry," according to The World's 50 Best. "He has also been fearless in challenging long-standing culinary mores, jettisoning industry dogma in favour of exploration and experimentation around food, and even questioning whether dishes need to be 'delicious' at all to be valuable."
Mugaritz is a model for new Basque cuisine. It closes for several months every year, according to its website, to devote time to creativity. His restaurant has boasted two Michelin stars since 2006. See the reservation page for dates the restaurant is open. For 2023, the restaurant is already open and continues serving clients until Oct. 29.
More Stories from EUSKAL KAZETA
Top Basque Cookbooks in English
Roasted Chestnuts Helped Families Survive
4.
Azurmendi
Barrio Legina s/n
Larrabetzu, Bizkaia
Number 81 on list: Azurmendi, led by chef Eneko Atxa, was Number 14 in 2019, but that doesn't mean it has already reached its peak. In 2014 and 2018, the restaurant received the award for most Sustainable. The restaurant, located on a hillside outside of Bilbo, uses a lot of vegetables and herbs that it produces right on its property and implements composting. The restaurant also includes a winery specializing in txakoli run by his cousin Bertol Izagirre.
Recycled materials were used in the building of the restaurant in 2012 and the building works with geothermal power, solar panels and recycled rainwater. The restaurant composts its waste locally and picks up its produce from local farmers. Three Michelin stars.
Atxa has also opened or done collaborations with several other restaurants in Bilbo, Sevilla, Madrid, Lisbon and Tokyo. Visit his site to learn the locations of these restaurants.
An Unusual Addition to this List
Lasai
Largo dos Leões 35, Humaitá
Rio de Janeiro, Brazil
This restaurant is Number 58 on the Top 100 list. It's included here because the chef, Rafa Costa e Silva, received his culinary education in the Basque Country. He worked with Chef Andoni Luis Aduriz at Mugaritz and the restaurant's Basque name is a nod to the Basque influence. Lasai is a Basque word that means tranquil or relaxed. The kitchen team is guided by seasonality and proximity, working with small producers who raise their own chickens and grow their own organic produce.

More Good Restaurants
Two more restaurants that were on the list in previous years did not make the top 100, but are included here for our readers.
Nerua
Av. De Abandoibarra, 2
Bilbo, Bizkaia
Nerua, the restaurant located inside the famed Guggenheim Museum, has moved up and down on the global list. Chef Josean Alija serves modern dishes based on local produce, which the top Basque restaurants are known for. Its museum location is part of the appeal. One Michelin star.
Arzak
Av Alcalde Elósegui, 273
Donostia, Gipuzkoa
Arzak, the restaurant that began the trend of new Basque cuisine, has lost some of its sheen, dropping gradually to Number 94 on the global list and now off the list. The restaurant's fame began under Juan Mari Arzak and continues today under his daughter, Elena Arzak. Juan Mari was responsible for the culinary revolution in the Basque Country begun in the 1970s.
Click here for the history of the family restaurant, which was built on a hillside overlooking Donostia in 1897 by Juan Mari Arzak's grandparents and started as a wine shop and tavern. Three Michelin stars.
Martin Berasategui
Loidi Kalea, 4
Lasarte-Oria, Gipuzkoa
Chef Martin Berasategui owns several restaurants around the world and has eight Michelin stars to his name. He opened his first restaurant, outside of Donostia, in 1993 and he earned his first Michelin star at the age of 25. This restaurant was on the global list for several years, but now it has dropped off the list. Perhaps Berasategui is a bit too busy, opening more and more restaurants around the world. But he is making gourmet Basque cuisine more well known around the world. Click here for "La Cocina de Martin"  with easier recipes.
Michelin Stars
Michelin stars are a rating system used by the red Michelin Guide to grade restaurants on their quality. The guide was originally developed in 1900 to show French drivers where local amenities such as restaurants and mechanics were, according to Wikipedia. According to the Guide, one star signifies "a very good restaurant", two stars are "excellent cooking that is worth a detour", and three stars mean "exceptional cuisine that is worth a special journey". The listing of starred restaurants is updated once a year.
Check individual websites for the times the restaurants are closed.
According to the website, the selection process for the world's best restaurants is based on an anonymous poll of more than 1,000 chefs, restaurant owners, food critics and other industry insiders from around the world. Each member gets 10 votes and at least four of those votes have to go to restaurants outside their region.
Amazon Prime members can watch De la Vida al Plato, a free series of documentaries of Spanish restaurants, which includes Asador Etxebarri and Echaurren. See "De la Vida al Plato" in Spanish.

Bittor Arguingoniz speaks about his restaurant and his form of cooking, in Spanish.

Azurmendi's commitment to sustainable cuisine is shown in the construction of his restaurant.