Center for Basque Studies Could Lose All State Funding
The Center for Basque Studies at the University of Nevada Reno could lose all public funding under a budget-cutting proposal being considered by the state Legislature.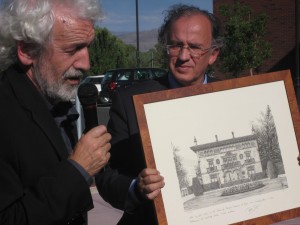 A loss of public funding, officials at the center say, would deal a major blow to the nation's preeminent Basque research facility by eliminating half of its annual operating budget and forcing it to raise money from private sources.
"If all of the cuts go through, we are in real trouble," UNR Professor and Basque Center Co-Director Jose Zulaika told Euskal Kazeta in a recent interview. "It would mean a drastic change for the Center for Basque studies."
The cutbacks to the center, which are supported by Gov. Brian Sandoval, are part of a larger plan to slash $30 million from the University of Nevada budget.
Related Euskal Kazeta Report:
Center for Basque Studies Celebrates New Facility
The state provides half of the approximate $1 million annual operating budget for the center, Zulaika said. The other half comes from the Basque government and several institutions in the Basque Country.
At this point, Zulaika said, he is waiting to see what happens in the next several weeks. State lawmakers will vote on a budget before the close of the Legislative session on June 6.
Zulaika noted that the center has always enjoyed strong support from UNR officials. "We are not being alarmists yet," he said.
The Basque Center is the leading academic venue outside the Basque Country dedicated to research of Basque-related issues. In 2008, the center moved to a state-of-the-art facility in the university's Mathewson-IGT Knowledge Center.
The center library is highly specialized with advanced technological capabilities to provide researchers with easier access to its resources. Even the bookshelves themselves represent the latest technological advances, accessed via a numeric keypad that works to open the shelves.
In all, the library has more than 50,000 volumes and 1,500 journal titles, as well as an extensive collection of thousands of photographs that the staff archived to make them available via the Internet.