The Center for Basque Studies at the University of Nevado Reno has been spared from a state budget-cutting plan that would have eliminated all of its public funding.
The cutback, which would have been about $500,000, or half the center's annual operating budget, was averted after a last-minute budget compromise this week by the Nevada Legislature.
"It's fantastic news for us," UNR Professor and Basque Center Co-Director Joseba Zulaika told Euskal Kazeta.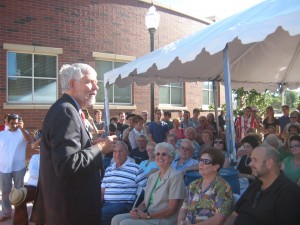 Related Euskal Kazeta Reports:
Center for Basque Studies Faces Drastic Budget Hit
Center for Basque Studies Celebrates New Facility
Video: Center for Basque Studies Dedication Ceremony
The agreement was hammered out by lawmakers in the final hours before the Legislature adjourned for the remainder of the year. The cutbacks to UNR and the center were proposed by Gov. Brian Sandoval.
The other half of the center's funding comes from the Basque government and several institutions in the Basque Country.
The Center for Basque Studies is the leading academic venue outside the Basque Country dedicated to research of Basque-related issues. In 2009, the center moved to a state-of-the-art facility in the university's Mathewson-IGT Knowledge Center.