Anthony Bourdain's Poulet Basquaise – Basque Chicken
The late celebrity chef Anthony Bourdain (1956 – 2018) loved the Basque Country and the Basque people. He filmed one episode of his "Cook's Tour" show in Donosti (San Sebastian), Spain as well as an episode of his food travel show "Parts Unknown." He has several Basque recipes in his cookbooks, including Poulet Basquaise. Poulet Basquaise is French for Basque chicken, a dish in which the chicken is cooked in a bell pepper and tomato stew.
Read our article: Bourdain: Champion of the Basque people.
He admired the Basques for their insistence on fresh, high quality ingredients. The Basques are well-known for being obsessed with good food and Bourdain knew that. He became friends with Michelin-starred chef Juan Mari Arzak and saw him whenever he visited Donostia.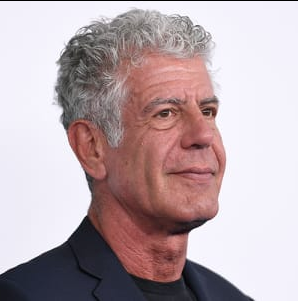 Bourdain's birthday, June 25, was declared Bourdain Day a year after he died. So in his memory, perhaps make a plan to cook this dish later this month, on the 25th and invite some friends over to enjoy it with you.
I am including Bourdain's Basque Chicken recipe exactly as he wrote it in "Anthony Bourdain's Les Halles Cookbook." This cookbook, which you can buy from Amazon by clicking here, is a great French cookbook, with irreverent comments from Bourdain throughout. Most recipes call for visiting your local seafood market or butcher and getting familiar with different cuts of meat.
See More Euskal Kazeta Recipes:
Chef Gerald Hirigoyen's Piperade recipe from his book, "Pintxos."
Burnt Basque Cheesecake: Easy, but Decadent
Bourdain calls for a whole chicken, cut into 8 parts. Chickens are not typically sold precut in packages. You'll usually find them packaged by body part – breasts, wings, drumsticks, etc. But it's easy enough to ask the butcher at your local market to cut it for you. If not, there are plenty of videos on YouTube that will show you how to cut up a chicken and it's a great skill to learn.

**Disclosure: links below are affiliate links which means at no additional costs to you, I'll earn a commission if you click through and make a purchase. These are all products that I recommend.
To buy the Piment d'Espelette for this recipe, click here.

Anthony Bourdain's Poulet Basquaise
Serves 4
Ingredients
1 whole chicken, about 4 lbs. (1.6 kg.) cut into 8 pieces
Salt
Pepper
Pinch of cayenne pepper or piment d'Espelette (Buy it from Amazon here.)
2 tbsp. (28 ml.) olive oil
1 tbsp. (14 g.) butter
2 red bell peppers, cut into fine julienne (short, thin strips)
2 green bell peppers, cut into fine julienne
1 onion, thinly sliced
16 oz. (450 g.) canned Italian plum tomatoes
1/2 c. (110 ml.) white wine
½ c. (110 m.) water
½ cube chicken bouillon or ½ c. (110 m.) light chicken stock or broth (this is one dish that can handle a bouillion cube)
3 springs of flat parsley, finely chopped
Instructions
Season the chicken all over with salt, black pepper, and cayenne (piment d'Espelette). Heat the large pot over medium-high heat and add the oil. When the oil is hot, add the butter. When the butter has foamed and subsided, add the chicken, skin side down, and brown on that side only. Remove the chicken with the tongs and set aside on a plate.
Add the peppers and onion to the pot and reduce the heat to medium low. Cook for about 10 minutes, then add the tomatoes and cook until the liquid is reduced by half. Stir in the wine, scraping, scraping — as always — to get the good stuff up. Cook until the wine is reduced by half, then add the water and the bouillon (or stock). Return the chicken to the pot, making sure to add all the juice on the plate. Cover the pot and cook on low heat for about 25 minutes. Remove the chicken to the platter. Crank up the heat to high and reduce the sauce for 5 minutes. Season with salt and pepper and add the parsley. Pour the sauce over the chicken and serve with rice pilaf.
It's also good with rice, boiled potatoes or roasted potatoes.