Anthony Bourdain: Champion of Basque culture and cuisine
The late celebrity chef Anthony Bourdain, host of the CNN travel show "Anthony Bourdain: Parts Unknown," admired the Basque Country for having "the most awesome food scene in Europe." He showcased Basque cuisine in Donostia (San Sebastian) in his series "A Cook's Tour," and then again in his travel show in an episode in May 2017.
Bourdain lauded the Basques for their love affair with food. In the trailer for the 2017 episode, Bourdain told viewers "don't come here," referring to Donostia, because he enjoyed the city so much he wanted to keep visitors away. His advice must have been tongue-in-cheek, since Donostia has attracted tourists for years for its food.
In his "Field Notes" from Donostia from the 2017 episode, Bourdain noted that after his own father died,  renowned Basque chef Juan Mari Arzak became like a second father to him. Arzak would call Bourdain occasionally to keep in touch. Bourdain also recounted being warned by two local chefs in Madrid, who contended that he was "too close" to the Basques. For a man who was in love with food and achieved acclaim explaining culture and cuisine to a global audience, Bourdain's strong ties with the Basques were not surprising.
See Euskal Kazeta's Favorite Basque Recipes
Field Notes and Short Videos about the Basque Country from "Parts Unknown"
In his episode of "A Cook's Tour" in Donostia, he told viewers that he felt he had discovered "a secret society all centered around eating, cooking and talking about eating and cooking." He went out for pintxos, visited with Arzak  and his daughter Elena and learned how to cook bacalao (codfish) with chef Luis Irizar, founder of a famous local cooking school. Irizar takes him to visit a txoko (gastronomic society). Bourdain admired "the Basques' insistence on really, really good ingredients."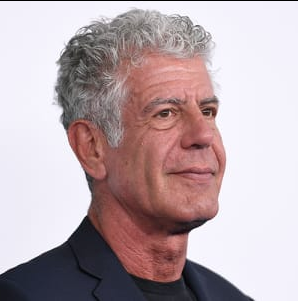 EK's Easy Recipe from Anthony Bourdain's for Poulet Basquaise
Bourdain, who started his culinary career at restaurants in New York City, first gained fame when he published a funny and shocking memoir about what really goes on in restaurant kitchens: Kitchen Confidential: Adventures in the Culinary Underbelly
"
The Basque can't seem to help but make good food from great ingredients."
— Anthony Bourdain
The 61-year-old chef was working on an episode of his show in France last week when he committed suicide. It was a tragic reminder of a troubling trend: the suicide rate in the United States has increased dramatically in recent years. Studies have shown that the risk of suicide declines sharply when people call the national suicide hotline: 1-800-273-TALK.  We can only hope that others experiencing severe depression or extreme feelings of helplessness will reach out for help and not suffer the same fate as Anthony Bourdain.
In this trailer, Bourdain makes his famous "Don't come here" statement about Donostia. The 2017 Parts Unknown episode in Donostia is only available for purchase.

Watch an interview with a young Basque chef in San Francisco – 2009.