Favorite Basque Recipes
Anyone who has visited the Basque Country, eaten at a Basque restaurant or attended a Basque festival can attest to the importance that Basques place on fine-cooked cuisine.
To help you enjoy Basque food, we've prepared the most exhaustive list of Basque recipes you'll find on the web. We'll also be regularly adding a video recipe to our popular collection of the best in Basque recipes. The first one is posted below.
As you'll see, our list of recipes below is comprehensive. But with your help, we'd like to add more.
Click here to read our recommendations for the top Basque cookbooks in English.
Have a favorite recipe from your ama or amatxi? If so, let us know by posting it as a comment and we'll include it with the rest of the recipes below: (New recipes are at the bottom of each category and are marked by the date they were added. We also have some great recipes submitted by our readers in the comments box at the bottom.)

Above: This video will show you how to whip up a tasty, healthy and popular Basque dish.
Related Euskal Kazeta Recipe Links:
Chef Gerald Hirigoyen's Piperade recipe from his book, "Pintxos."
EK's porrusalda and other Basque soups
Meat Recipes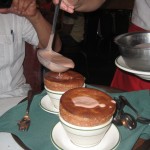 Basque Lamb Chops

Chicken and Chorizo Sauté 
Pimientos Rellenos (Stuffed Peppers) from the Smithsonian
Poultry Recipes
Cecile's Basque Chicken and Rice
Chicken Thighs with Spicy Tomato-Pepper Sauce by Chef Gerald Hirigoyen
Poulet Basquaise or French Basque Chicken
Rice with Rabbit, New York Times
Fish Recipes
Basque Country-Style Pasta With Shrimp
Basque Shrimp with Chimichurri
Basque-Style Baked Spider Crab
Prawns a la Plancha with Garlic and Lemon Confit by Chef Gerald Hirigoyen

Shrimp with Grapefruit-Vanilla Nage
Vegetarian Recipes
Basque beans – EK's selection of the best Basque bean recipes– new!
Piperade from Chef Gerald Hirigoyen's book, "Pintxos"
Roasted Fingerlings with Piperade
Tortilla de Patata from the Udaleku 09 Basque Summer Camp
Dessert/Pastry/Bread Recipes
Gateau Basque – EK's list of the best Gateau Basque recipes
Basque Sheepherder Bread, National Public Radio Article & Recipe

Crepes from the Udaleku 09 Basque Summer Camp
La Côte Basque's Dacquoise Cake 
Pastel Vasco with Blackberry Compote and Cream
Tarta de Almendras, or Almond Tart, with Sweet Basque Cream

Vanilla-Scented Beignets by Chef Gerald Hirigoyen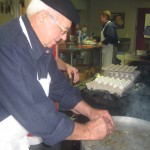 Soup, Stew Recipes
Basque Sausage and Garbanzo Soup
Cauliflower Soup with Basque Chorizo and Spinach 
Marmitako (Basque Potato and Tuna Soup), submitted by Deena

Marmitako (Fresh Tuna and Potato Stew)

New York Times Tuna and Pepper Stew
Potage Luzienne, or Olive Soup from St.-Jean-de-Luz
Sauce Recipes
Basque Salad Dressing with Red Wine Vinegar

Pintxos Recipes
Chicken Wings with Spicy Basque Ketchup

Chopped Egg Salad with Caper Berries and Fresh Herbs by Chef Gerald Hirigoyen

Open-Faced Herb Omelet with Basque Chorizo, Seasonal Vegetables

Piperada Bocadillo – Egg and Pepper Sandwich

Piquillo Pepper Stuffed with Salt Cod Brandade

Salad Recipes
Basque Grilled Turkey & Romaine Salad

Squid and Black-Eyed Pea Salad by Chef Gerald Hirigoyen
Cocktails
Basque Cooking Videos