Burnt Basque Cheesecake: Easy, but Decadent
Not only had I never made Burnt Basque Cheesecake before, but I had never tasted it before the first time I baked it. But the minute I tasted it, I was an immediate fan. And you will be too.
Burnt Basque Cheesecake is not a traditional Basque dessert. Marti Buckley herself in her cookbook "Basque Country" points out that the Basques are not into super sugary desserts in general, which I agree with. If I think of Basque-style desserts, only gateau Basque and beignets come to mind. At Basque-American celebrations, frequently nothing more than ice cream sandwiches are passed out at the end of the meal.
This is not to imply that Basques don't have a sweet tooth. They do. But desserts don't tend to be emphasized in their cuisine. When I lived in Iparralde (the French Basque Country) with my aunt and uncle, meals often ended with some bread and cheese, to finish off the last sips of wine, or a yogurt or a piece of fruit.
But as every community becomes more global, even the Basque Country is influenced by new traditions.
La Viña Restaurant in Donosti (San Sebastian) was the inventor of Burnt Basque Cheesecake or Gazta Tarta in 1990. It soon became a global sensation and is served at bakeries around the world.
And apparently restaurant owner and chef Santiago Rivera is happy to hand out the recipe. I'm using the one in Buckley's cookbook "Basque Country." (Click here to buy the cookbook.)
Burnt Basque Cheesecake Recipe
This cheesecake looks like a decadent dessert that would be very complicated to make. But in fact it's very easy. There are no tricky aspects. The first time my daughter and I made it, it came out delicious.
Rivera has been quoted as recommending that bakers add their own adaptations, like salt, or vanilla, or lemon zest, based on their own preferences.
Ingredients
1 ¾ c. (350 g.) sugar
2 1/4 lbs cream cheese at room temperature
¼ tsp. kosher salt
5 large eggs
2 c. (480 ml.) heavy cream (sometimes called heavy whipping cream)
¼ c. (30 g.) all-purpose flour
Directions
Take out the cream cheese early to let it soften. Preheat the oven to 400 degrees.
Grease a springform pan and then line it with parchment paper. Press on the folds of the paper so that it lines the inside of the pan evenly.
Cream the sugar and cream cheese together with a mixer until smooth. Add the salt, and then the eggs, one by one, with the mixer. Then add the cream with a whisk. Sift in the flour.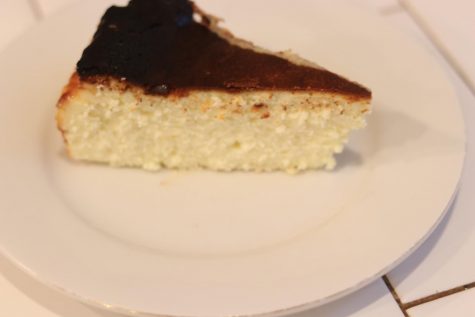 Pour into the parchment-lined pan and put in the oven. Bake for 50 minutes. Check on it at 50 minutes. The top will be brown and the center jiggly. The addition of even one, two or three minutes will make a difference in the consistency of the cake and the thickness of the outside layer that holds the cake together. You can choose to let it cook a couple minutes more or less, but I promise, it will be delicious.
MORE EUSKAL KAZETA RECIPES:
Favorite Basque Recipes
Chef Gerald Hirigoyen's Piperade recipe from his book, "Pintxos"
Burnt Basque Cheesecake
EK's Basque Bean Recipes
EK's Quick and Easy Paella
EK's Porrusalda and other Basque Soups
Tortilla de Patatas (Potato Omelette)
Basque-Style Peppers
EK"s Basque Vegetable Soup Recipe





Watch our full playlist of Basque recipes.