Dan Ansotegui named National Heritage Fellow
Dan Ansotegui, a pillar of the Boise Basque community for years, was recently honored for his commitment to maintaining Basque culture with a NEA National Heritage Fellowship. The musician and restaurateur was one of only nine Americans to be honored with the award this year, considered the highest honor bestowed on folk and traditional artists in the U.S.
"I feel good about it," said Ansotegui in an interview with Euskal Kazeta , but he added that it felt odd to be singled out among the Basque community for carrying on the culture. "To me, it's a group effort. It takes everybody in a community to do this," he said, pointing to other Basque-Americans in the Boise community who also work hard to promote the Basque culture.
The list of Basque cultural accomplishments Ansotegui has made over the years is long.




Ansotegui's Basque roots in Idaho go back to his grandparents who came over from Bizkaia, and the cultural traditions that were perpetuated by his grandmother, Epi Inchausti, who was famous for her cooking at the family's boardinghouse in Hailey, Idaho.
Ansotegui grew up with Basque music and dance around him. He learned Basque dances from the age of 6 and joined Boise's Oinkari dance group at the age of 14. His musical father, Domingo Ansotegui, along with Jimmy Jausoro, played the music for Oinkaris, as well as for other events in the Basque community. His father played several instruments. The two men forged a pathway Ansotegui would later follow.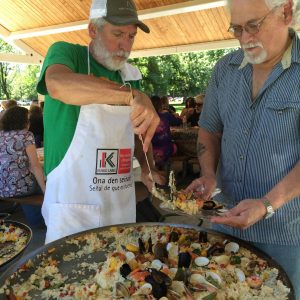 Jausoro, playing the piano accordion, started his own band, featuring Domingo Ansotegui on the drums. Jausoro was also a National Heritage Fellow back in 1985. (Read Jausoro's biography here.) The young Ansotegui participated in the DC celebration for Jausoro as a member of the Oinkari dancers.
The year after Ansotegui's father Domingo passed away in 1984, Jausoro asked him to play drums for his band. Ansotegui told Jausoro he didn't know how to play drums, he had only played trumpet in high school. Ansotegui remembers Jausoro's answer.
"He said 'That's okay. Your dad didn't play drums when he started with me either." Ansotegui played with Jausoro, but also started another band, Ordago, with Chris Bieter, where he also played the drums and sang.
During a trip to the Basque Country, Ansotegui fell in love with the diatonic button accordion, known in Euskera as the trikitixa.
"It has a brighter sound," he found than the piano accordion that his father played and it was easier to learn. He took four lessons in the Basque Country and then came back and taught himself. He has gone on to create three other Basque bands over the years, playing the trikitixa for all of them. He also was instrumental in creating Txantxangorriak, a group that has taught the trikitixa and pandareta to over 40 students.
READ MORE STORIES ON BASQUE MUSICIANS:
Amuma Says No Rocks D.C.
Madonna admires Basque culture
Kalakan to Tour the United States
Kepa Junkera Reflects on His Trikitilari Career
Berri Txarrak Plays New Album at Venice Beach Party
He has been a core member of the Basque rock band Amuma Says No, which he started with pandereta player Sean Aucutt in 2006. He still plays for Amuma Says No, but he also plays a mix of Basque tunes and old rock-and-roll with a newer group, the Kalimotxo Cowboys.
Ansotegui has also been a leader in developing the Basque restaurant scene in Boise. Currently, he is a manager of a new Basque restaurant Txikiteo, which he described as a fun tapas place with a beautiful patio.
He started with Bar Gernika, which he opened on the corner of the Basque Block in 1991. In 1999, he opened the Basque Market down the street, mostly to fulfill a demand for catering, which he couldn't address in Gernika's tiny kitchen. He sold the market in 2006 and Gernika in 2008, to owners who have maintained the strong Basque tradition in both eateries
"It's cool to see those places continuing," he said, adding that he didn't start them with the idea of creating longtime Basque establishments. "My intention was to do something that I wanted to do and that I enjoyed doing and if I made a living at it, even better."
"His efforts serve as living links in the historical chain that maintains cultural connections between ancestral and living communities" wrote Steven Hatcher, Folk and Traditional Arts Director of the Idaho Commission on the Arts.
Through the years, Ansotegui has won other awards for his mastery of button accordion. He won the 2001 Idaho Heritage Award, the 2004 Governor's Award for Excellence in the Traditional Arts and an honorable mention in the 2010 Fellowship Awards for Performance through the Idaho Commission on the Arts.
The recipients will be honored in Washington, D.C. along with the other fellows Sept. 18 and 20. Ansotegui said his musician buddies Aucutt and Bieter will accompany him to perform for the celebration Sept. 20.
"The National Endowment for the Arts is proud to recognize these artists and the important role they play in our nation's vibrant cultural landscape," said Mary Anne Carter, acting chairwoman of the National Endowment for the Arts on the NEA's website. "Whether it's through storytelling, mentoring, or performance, these Heritage Fellows are committed to sharing their art forms with others."

A popular song "Maite Zaitut (I love you) that Amuma Says No played in Washington DC.