Amuma Says No Rocks U.S. Capital
The popular Boise-based Basque music group "Amuma Says No" performed Wednesday July 14 in the Homegrown Concert Series in Washington D.C. The series features top artists performing traditional music and dance routines from a variety of cultures in the United States.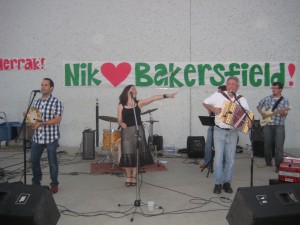 The group was interviewed by Capitol News Connection. You can listen to the interview and find out how the band members came up with the name of their group. Here's a hint: Amuma is grandmother in the Basque language of Euskera.
Formed in 2006, the group plays traditional and modern Basque dance music, as well as Basque-flavored folk and rock tunes.
Related Euskal Kazeta articles:
Amuma Says No Headed to U.S. Capital.
Amuma Says No at San Inazio Dance Parties
Amuma Says No Plays at Elko Festival