Kepa Junkera, Living in U.S., Hopes to Spread Basque Music
Junkera Talks About Life in Marin County, Calif.
Kepa Junkera, probably the best internationally known Basque musician, is currently living in the United States to produce an album that aims to promote Basque music to a larger audience.
"I want to expose our culture to the outside world," he said in a recent interview with Euskal Kazeta.
Junkera arrived with his family last August and settled in San Rafael, just north of San Francisco. His three children are attending school there. He chose the Bay Area because it's very cosmopolitan. "And," he says, "the geography is a paradise."
"I think it's important that they learn other languages and cultures," Junkera says about his children. But he's quick to add that "my home is still Bilbao."
The world music and Basque folk music accordionist is known in Basque as a trikitilari because of the special diatonic button accordion he plays that's called a trikitixa. He's working on a trio of CDs that include many artists.
Part of Junkera's fame is his tendency to take traditional Basque music and give it a twist, creating something altogether new. But with his current project, he goes back to his roots with well-known songs from the Basque Country. He noted that some of his compatriots tend to think the traditional music can only be sung by Basques. He's turning that idea on its head, by asking singers from many countries to sing songs in Euskera, the language of the Basque people.
The first two parts of his CD trilogy — Etxea (Home) and Kalea (Street) — have already been released, and he is currently working on the third, Herria (Country), which he hopes will be out in November. To buy some of his albums (CD or digital versions), click here: "Maletak" with Sorginak; "Galiza"; "Bilbao"; "Trikitixaren Historia Txiki Bat" with Sorginak.
Since he started the project, he has traveled to several Latin American countries such as Mexico, Brazil and Argentina, where he recorded with a number of singers. Now he is focusing on working with musicians in the United States. He recently went to San Antonio, Texas, to record some songs and play at the San Antonio Accordion Festival. And he has already recorded songs with people from around the globe who are living in the U.S., such as Chinese, Japanese and Armenian singers. San Rafael serves as his base of operations, he says, noting that he'll rent a studio wherever he needs one, including Los Angeles, New York and Miami.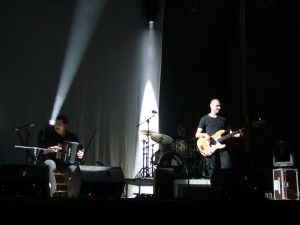 Junkera is a self-taught accordionist who grew up in a family where music overflowed. During the recent phone interview from his current home in San Rafael, Junkera recalled receiving his first trikitixa when he was about 10.
"Me dejaron una acordión muy viejita la pobre," he said in Spanish – they gave him an old accordion. He taught himself to play it, listening to music and attempting songs on his own. Looking back, he thinks he may not have been so interested in the music if he had been formally taught. "When you realize you can do it, it gives you energy."
READ MORE STORIES FROM EUSKAL KAZETA
Kepa Junkera Performs for the Chino Basque Club
Basque Baby Names Become More Popular
Madonna to Perform With Basque Trio Kalakan
He didn't have a long-term goal when he started. "Each time you reach one goal, you start thinking of the next one," he noted. He began playing music in the streets when he was about 12 or 13. He is grateful for being taken in by the Basque group Oskorri for several years, recording with them. He recorded his own first album in 1988, when he was 23. Since then he has recorded over a dozen more of his own albums, and began producing albums of other musicians as well. His album Hiri, released in 2006, won best World Music Album of the Year in Europe.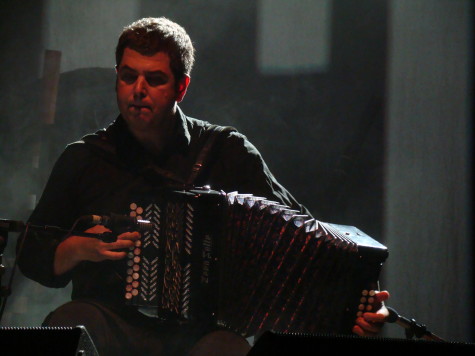 Junkera turns 45 this year, but he's not tired of the trikitixa.
"Me da alegria," he noted. It makes him happy. It's uplifting music, he says. "It incites people to dance."
The diatonic accordion has buttons on both sides and is traditionally played in a duet known as trikitilariak with another musician playing the tambourine or pandareta. It's gone through a renaissance in the Basque Country in the last few years, which Junkera attributes to a change in the type of people who play it now.
"It's gone from the countryside to the city," he said, adding that before, people who played it were not formally trained in music, whereas now, sophisticated musicians are taking up the instrument. In his own music, he has also promoted other traditional Basque instruments such as the txalaparta, the txistu and the alboka.
As part of his stay in the U.S., Junkera has scheduled several concerts. In January he performed at the Basque Cultural Center in South San Francisco, and he played at an arts center in Fallon, Nevada last November He has two concerts lined up in Lafayette, Louisiana for April 24 and 25 and perhaps another in Tempe, Ariz.
But he also frequently returns to Europe, to play there as well. He returned in November for the release of Kalea and will be there at the end of February for a concert with the orchestra of Euskadi.
Junkera said his goal has always been to share Basque music, and that is also the aim of his musical trilogy. "Basque music has a unique personality and it can be molded."
For the three CDs, he has recorded with over 80 artists from 11 different countries, including Juanes, Pablo Milanes and Lila Downs. How did he meet all of them? Some he met while working with other musicians, while the names of others were passed along to him by musician friends.
Junkera noted that they have all reacted positively when he approached them about singing music in Basque.
"Musicians are people who are interested in culture," he pointed out. Most of them were at least familiar with the Basque culture.
Typically he sends them the music and lyrics ahead of time, including a translation in their own language, so they know what they are singing about.
"But then I give them freedom to develop their own interpretation," he noted.

See Kepa's Jan. 22 performance at the Basque Cultural Center with the Elgarrekin choir, filmed by Jean Paul Barthe.

Juanes, who has Basque heritage, sings the well-known song "Aldapeko" with Kepa on his album Kalea