Etchevers, Huarte Win Opening Pelota Matches at Pan Am Games
The Team USA pelota squad got off to a good start Friday morning when Roger Etchevers and Roberto Huarte won their opening matches at the 2011 Pan American Games in Guadalajara, Mexico.
With their wins, both U.S. players will face formidable foes from Mexico in the their next matches in the Basque Pelota competition at the international games.
Etchevers soundly defeated his opponent from Argentina in singles trinquete handball in both matches. The scores were 15-2 and 15-7.
On the 36-meter handball court, Huarte also breezed to victory in matches against his foe from Argentina. The scores were 10-1 and 10-1.
"It's good to the get the first one under the belt," Xabier Berrueta, president of the United States Federation Pelota, said of today's Team USA victories. "It sets us up for better positioning in the medal round."
RELATED EUSKAL KAZETA REPORTS:
Popularizing Basque Pelota
Etchevers, Huarte of Team USA in Medal Hunt at World Championships
Jubilation, Heartache and Hope at World Pelota Championships
Etchevers is a veteran of international competition. He represented the United States at last year's World Championships in Pau, France, where he placed fourth.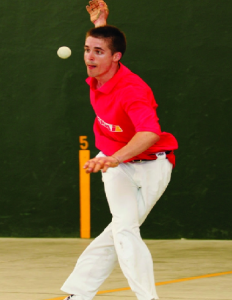 On Monday, he faces an epic battle against Hiriberto "Loquillo" Lopez, the reigning world champ in trinquete singles handball. Lopez is known for his aggressive attitude and hard-charging play on the court.
Huarte, meanwhile, will square off against Fernando "Momo" Medina, the silver medalist in 36-meter handball at last year's World Championships.
"It's a David versus Goliath match," Berrueta said.
He noted that the 6-foot 3-inch Medina has about a 1 foot height advantage over Huarte.
Nonetheless, Berrueta said, Etchevers and Huarte will have a weekend to rest before their next matches, which will allow them to step onto the court ready to battle..
Both men have to win at least two of the three preliminary matches to advance to the medal rounds on the competition.
Friday afternoon, brothers Tony and Josetxo Huarte of Team USA will be teaming up for a 36-meter doubles handball match against Argentina. The brothers are veterans of last year's World Championship squad.
In Frontenis action, Rolando Tejada and Daniel Delgado will also be playing against opponents from Argentina Friday evening.
Related Links:
To see live streaming of the pelota action and other events, click on this Pan American Games website.
For more information on Basque Pelota, see the U.S. Federation of Pelota website.