Etchevers of Team USA wins bronze medal in Basque Pelota at Pan Am Games
Roger Etchevers of Team USA won a bronze medal with a commanding performance Wednesday afternoon in the Basque Pelota competition at the 2011 Pan American Games in Guadalajara, Mexico.
Etchevers, 38, overwhelmed Luis Maidana of Argentina in singles trinkete handball. The score was 15-1 in both matches.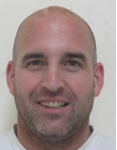 With his victory, Etchevers earned the distinction of becoming the first-ever U.S. athlete to win a pelota medal at the Pan American Games. This was the first time that the U.S. had fielded a pelota squad for the international games, which attract thousands of athletes and are held every four years.
On Thursday, five other Team USA pelota players will be battling for gold or bronze medals at the Complejo Revolucion, where all the handball action has unfolded.
RELATED EUSKAL KAZETA REPORTS:

Team USA Set to Begin Pelota Play at Pan Am Games
Etchevers, Huarte Win Opening Matches at Pan Am Games
Popularizing Basque Pelota
Roberto Huarte, 23, will play for the gold medal in 36-meter handball against Mexico's Fernando "Momo" Medina on Thursday afternoon. Medina, the silver medalist at last year's Word Championships, soundly defeated Huarte in two preliminary matches on Monday.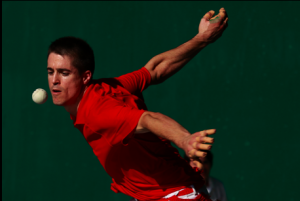 Brothers Tony, 29, and Josetxu Huarte, 27, will battle for the gold in 36-meter doubles handball against Mexico's Jorge Alcantara and Orlando Diaz.
The Mexican duo beat the Huartes in preliminary action Saturday 10-4 and 10-2 and will be energized during the match by the home-country crowd.
"To advance to the gold medal game is really a big honor for us," Tony Huarte told Press Box, the publication of the U.S. Olympic Committee.
He acknowledged that he and Josetxu face a challenging task in defeating Mexico.
"We know what to expect having played them before. It will be a hard match, but we are looking forward to it." On Tuesday, Tony and Josetxu prevailed in an epic contest that lasted for 96 minutes before the brothers won in a third tie-breaking set against a strong Cuban team.
In frontenis action, Team USA's Rolando Tejeda and Daniel Delgado, who are both 22, will play for the bronze medal Thursday evening against Jorge Alberdi and Alexis Clementin of Argentina.
Tejeda and Delgado, who hail from Texas, beat the Argentinians Sunday in the preliminary rounds.
For complete schedules and scores of all the pelota action, check out the Pan American Games website.
For more information on Basque Pelota, check out the U.S. Federation of Pelota website.