Garamendi Leads in Race for U.S. Congress
John Garamendi, among the most prominent Basque-American elected officials in the United States, is leading in a race for a Northern California congressional seat, according to a recently released poll.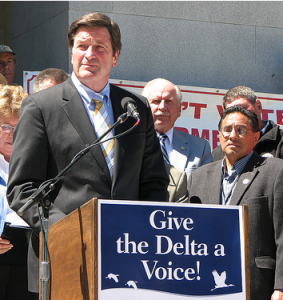 The poll results, published August 24 in The Sacramento Bee, showed Democratic candidate Garamendi with an 11-point lead over his closest rival in the crowded race for the open seat.
Garamendi, 64, is the lieutenant governor of California. The grandson of Basque immigrants also has served in the State Legislature and as California's insurance commissioner.
The congressional race covers a district where Democrats hold an 18-point lead over Republicans, according to the newspaper report.
In all, five Democrats, six Republicans and three other candidates from other parties are running in the 10th Congressional District race. The district stretches from Sacramento County south to Alameda County in the eastern part of the San Francisco Bay Area.
The primary election will be held on September 1. If no candidate from either party receives a majority, top vote winners from each party will square off in a general election on November 3.
If Garamendi is elected, he would become one of only two Basque-Americans to serve in the U.S. Congress. Other notable Basque-American elected officials have included Paul Laxalt, former governor and U.S. senator from Nevada, and Pete Cenarrusa, former Idaho secretary of state.
On his campaign website, Garamendi touts his 32 years of public service, as well as his tenure as deputy secretary of the interior during the Clinton Administration. He also talks about his time in the Peace Corps, working as a volunteer in Ethiopia. A graduate of U.C. Berkeley, Garamendi played football for the Golden Bears and was a second-team All American as a guard.
Garamendi's grandparents operated the Ely Hotel in Nevada and the California Hotel in Stockton. Garamendi has hosted big Basque barbecues on his sprawling ranch in Mokelumne Hill in Northern California. The events, where the U.S. and Basque flags have been prominently displayed, are typically attended by hundreds of people who enjoy chorizos, music and performances by Basque folk dancers.