Basques Keep the Faith for Peace
I have an image stuck in my memory from when I was a small child, 6 years old or so, of a tire, on fire, rolling from one side of the road to the other as it passed in front of my apartment building in Getxo. I could barely see what was going on, standing on my tiptoes to reach the edge of the window. I remember, though, hearing shots and broken glass. Later, I learned that policemen were shooting rubber balls at a group of people that was throwing rocks and crystal bottles in flames.
As a kid full of imagination, that event was spectacular to me. Now, seeing it as a politically violent act, other events come to my mind: a couple of bombs in a neighborhood almost a mile away, vibrating every window in our house; a neighbor, unrecognizable, because a Molotov cocktail exploded on him; a murder in another borough; kidnaps, explosives deactivated by police forces…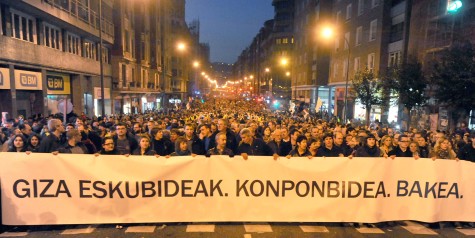 But as those images get closer to the present day, they seem to be in front of my eyes instead of in my memory. With my maturity, the reality has grown more complex: photographs of prisoners disfigured in prison cells; police actions at the University of the Basque Country, shooting rubber balls and beating up students for 'illegal' protests carried out by a few.
I have a very vivid memory of a girl, carrying her folder, running towards the university canteen to escape from the clash, when a police officer grabbed her by the ponytail, threw her to the ground, and hit her legs with a nightstick. I was less than ten meters away.
ETA killed up to 829 people in half a century. GAL, death squads established illegally in the 1980s by Spanish government officials to fight ETA, killed up to 27 people in four years of activity. Many members of ETA (the amount is difficult to determine), plus alleged members afterwards proved innocent, have been tortured in prison in the past 30 years. The Spanish authorities, in 17 years, closed down two Basque newspapers and a radio station, outlawed political parties and imprisoned politicians and trade unionists.
All Basques wish for is peace and social and political normalcy, once and for all. ETA declared the end of its armed activities two and a half years ago, and recently gave up a token part of its arsenal, thus opening the gates to a completely new socio-political scenario. Society is reacting to this new reality, to this completely different equation of the socio-political panorama. People want to do something to change things for the better.
Basques fear the inactivity shown by the Spanish government, which has refused to make any gesture towards the armed group's call for a cease-fire, for that could eventually rot this unique occasion, the same way water decays when stagnant.
One of those attempts to do something was the demonstration held in Bilbao on January 11. A march, joined by around 120,000 people, under the motto "Human rights, Solutions, Peace," became one of the biggest social congregations in recent decades in the Basque Country.
Here are the headlines by some international media groups, regarding the march:
The New York Times: "Tens of Thousands march in Spain in support of ETA"
Al Jazeera: "Thousands march in Bilbao for ETA" (The very next day, the Qatar-based group changed that headline for the following one: "Thousands march in Bilbao for 'human rights'")
Associated Press: "Pro-independence march in Bilbao"
Either the message (human rights, solutions, peace) was misunderstood or very poorly conveyed. But let's not be naive, there are interests behind every headline. It is undeniable that the march was organized by the two major Basque nationalist parties. This likely led to the misinterpretation, by the international press, that that crowd took up a stance for a particular side of the issue. Still, that analysis errs in a very essential point. Basques are tired of years of trenches that separated society into two enemy sides, and all they seek is to build bridges of communication or, at least, facilitate them.
That is why such a diverse crowd, comprised of young and older adults, left and right winged, mainly Basque nationalists, but not in its entirety, joined that march. My parents were there, many of my friends were there, and people I would have never imagined being at a demonstration called by Basque nationalists were there.
At the time I was in Los Angeles, keeping track of what was going on, via Facebook, Twitter, and different media groups' streaming-news apps. I wanted to be there. But I couldn't.
I felt pride for my people and for all who gathered there because it was not an easy situation, for two main reasons. One, because the demonstration was a reaction to the Spanish Court's decision to forbid a previous demonstration, called by the left-winged Basque nationalist party. And two, that Basque people still have too many prejudices about the one another, about what the guy by your side might think about ETA, or about police violence, or Spain, or France, or the language policies. But 120,000 people took a leap of faith and decided to attend the demonstration, regardless, and left behind those thoughts.
Basque society wants to move forward in this peace process and show their politicians and the world that there is no turning back.
Obstacles are inevitable. But Basques will keep on fighting for peace. With our characteristic stubbornness, we will not lose the faith. That march was an attempt to do so. And there are more to come.