Garamendi Wins Congressional Election (Updated)
California Lt. Gov. John Garamendi, the grandson of Basque immigrants, will resign his state post and be sworn in Thursday Nov. 5 in a ceremony in the House of Representatives after winning an election for a northern California Congressional seat.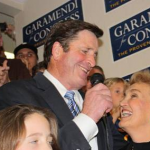 The 63-year-old Democrat captured 53 percent of the vote against Republican David Harmer, who had 43 percent, in the Nov. 3 special election to fill a vacant seat in the 10th Congressional District.
"I'm excited. I'm really excited," Garamendi told supporters at his campaign headquarters as election results were tallied.
He told reporters that he plans to get to work on issues such as health-care reform and the war in Afghanistan after he arrives in Washington D.C. "There's a lot of work to be done," Garamendi said.
Garamendi will become the first Basque-American to serve in Congress from California, the most populous state in the U.S. He will be the second Basque-American to serve in the Congress. The other was Paul Laxalt, who also was a governor of Nevada.
Garamendi will arive in Washington at a critical time for congressional Democrats. He'll be in a position to vote on long-awaited legislation to reform the nation's health-care system, a top priority of the Obama Administration.
Health care was one of the topics discussed by Garamendi and former President Bill Clinton during an upbeat rally Oct. 6 at the Basque Cultural Center in South San Francisco.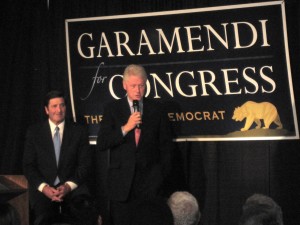 During the South San Francisco event, attended by many Bay Area Basques, Clinton praised Garamendi, saying he would help the country improve its health insurance system and shift its economy into green jobs. Garamendi was a deputy secretary of the interior during the Clinton Administration in the 1990s.
"Every day that he worked for me, he had that smile on his face. And he was thinking what good can I make happen today," Clinton recalled. "Those are the kinds of people we need in the Congress."
Garamendi's grandparents operated the Ely Hotel in Nevada and the California Hotel in Stockton.
Over the years, Garamendi has hosted big Basque barbecues on his sprawling ranch in Mokelumne Hill in Northern California. The events, where the U.S. and Basque flags have been prominently displayed, are typically attended by hundreds of people who enjoy chorizos, music and performances by Basque folk dancers.
Garamendi is one California's most seasoned politicians. He was elected to the Legislature in the 1970s and twice served as the state's insurance commissioner. He also had two unsuccessful attempts for California governor.
The sprawling Congressional district that Garamendi will represent stretches from Sacramento County south to Alameda County in the eastern part of the San Francisco Bay Area. The seat was previously held by Ellen Tauscher, who resigned to go to the State Department.
As he campaigned, Garamendi touted his 32 years of public service and talked bout his time in the Peace Corps, working as a volunteer in Ethiopia. A graduate of U.C. Berkeley, Garamendi played football for the Golden Bears and was a second-team All American as a guard.
0 Comments For This Post