Several hundred people showed up on the Basque Block in the evening of Tuesday, July 27, the first official day of Jaialdi 2010. Musicians played, while the crowd ate pintxos and sangria from the Basque Market, or specialty drinks, like kalimotxos at the Basque Center.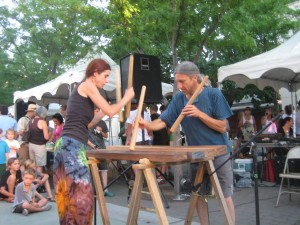 Ander and Imanol Zabaleta, from the Basque Country, played the diatonic accordion and the tambourine, in a duo known as "trikitixa." They came to Jaialdi after being invited by organizers last year. Meanwhile, as the staff at Bar Gernika struggled to keep up with the orders in their crowded pub, another group of Basque Country musicians broke out their instruments there to the delight of the customers.
"Jaialdi is impressive," said Imanol Zabaleta in Spanish. "It's great that the culture is maintained like this." The two will be playing all week. "We are the strolling musicians, so we'll be everywhere, here and there."
Bob and Martha McFarland of Boise, came to enjoy the music and food. They first became intrigued by the Basques two years ago at the Folklife Festival in Seattle. The two, who are not Basque, plan to see the Morrison Center dance show on Friday.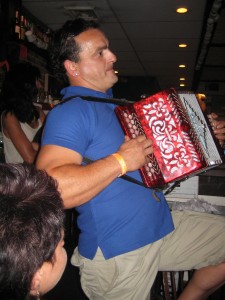 "It's very family friendly and fun," said Bob McFarland, of the atmosphere on the block Tuesday evening.
On Wednesday, the highlights will include more games from the Women's world pala championships and more "basquing" on the Basque block. Prof. Alberto Santana of the Basque Studies Center at Boise State University will give a public lecture on the history of Basque names at the Egyptian Theater.
Wednesday, July 28
11 a.m. Women's World Pala Championships (Semi-finals), Fronton, 619 Grove St.
3 p.m.- 5:30 p.m. International Basque Conference, Boise State University, Interactive Learning Center, Rm 402. Lectures by some of the most prominent experts on Basque immigration. (Updated 7-26-10)
5 – 11 p.m. Food, drink and music on the Basque Block, the 600 block of Grove Street (between 6th Street and Capitol Boulevard). Free.
5 – 8 p.m. Basque band Amuma Says No at Alive at Five Concert Series, Grove Plaza
7 p.m. Women's World Pala Championships (Consolation games), Fronton, 619 Grove St.
7 – 9 p.m. Basque Culture Conference at the Egyptian Theatre, 700 W. Main St. (208) 345-0454
Experts will discuss Basque immigration and history of Basque names
Hosted by the Basque Studies Center at Boise State University. Free.