NABO Pilota Finals in Chino, Calif.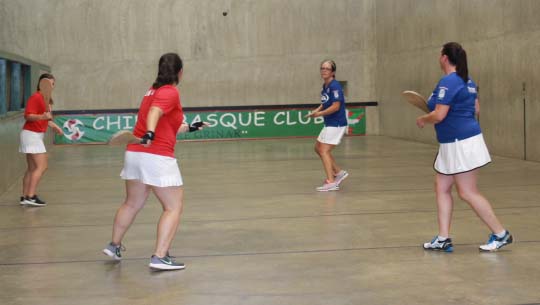 The 2017 pilota finals for the North American Basque Organizations were held at the Aphessetche Trinket in Chino, Calif. this year for the first time. The games took place Saturday, Sept. 2.
Players came from San Francisco, Bakersfield and Chino, Calif. and Boise, Idaho.
In the youth pala category, brothers Aingeru and Asier De Luz of Bakersfield beat their competition Nico Calderon and Riley Anema of Chino. Aingeru De Luz said he and his brother spent a few weeks  in their father's hometown  Zumarraga in the Basque Country this summer and played pilota or pala every day, sometimes a couple of times a day. "We played these 12-year-olds. They were really good," he said.
Mike Aphessetche played for Chino against Remi Cuburu of San Francisco and won. "He played against the same guy last year in San Francisco and won," said his dad Pierre Aphessetche. "Now they're playing here," on Aphessetche's home court. He had a big advantage, since the trinket is very different from the left-handed walls that most players practice on.
For the women's games, the more experienced Teresa Iparraguirre and Michelle Freibel beat their younger counterparts in paleta goma. Iparraguirre is also the NABO Pilota chairwoman and was in charge of running the games.
The trinket, built in 1981 by former dairyman Xavier Aphessetche, with its roof and open air side walls along the top provided a bit of relief from the heat which topped 105 degrees during the afternoon. A five-minute rainstorm provided momentary coolness. The court has four cement walls, although the left-handed wall bumps out over a spectator viewing area, a feature that provided some unexpected bounces for many of the non-local players.
For more information about playing pilota at the Aphessetche Trinket, click here.

Final scores in the championship:
Youth Handball: San Francisco P. Arrechea 40 vs. Chino's X. Oteiza 10
Class B Paleta Goma Semi-Final: San Francisco A. Camou and O. Sidbie 40 vs. Boise's PJ Mansisidor and A. Eiguren 21
Women's Baleen: Bakersfield M. Friebel and T. Iparraguirre vs. San Francisco's M. Kvarna and A. Zamattia 20-14; 17-20, 10-8
Youth Paleta Goma: Chino J. Sealy and J. Anema 40 vs. San Francisco's P. Arrechea and E. Moulia 27
Youth Paleta Goma: Bakersfield A. De Luz and A. De Luz 40 vs. Chino R. Anema vs. N. Calderon 26
Class A Doubles: San Francisco J. Kvarna and M. Medina 40 vs. Chino's D. Petrissans and J. Jaureguey 21
Class A Singles Chino's M. Aphessetche 40 vs. San Francisco's R. Cuburu 11
Women's Paleta Goma: Bakersfield M. Friebelt and T. Iparraguirre vs. San Francisco's J. Moulia and A Zamattia; 20-11; 20-12
Class B. Paleta Goma: Chino's J. Jaureguey and C. Jaureguey 40 vs. San Francisco's A. Camou and O. Sidbie 21
Class A Paleta Goma: Chino A. Duhart and G. Monti 50 vs. San Francisco's G. Dalia and M. Curutchet 37