The opening of the Boise Basque Museum's Ellis Island exhibit will be celebrated with a reception in New York City featuring speakers, dinner and live music on Saturday Feb. 6.
The New York Basque Club and a Delegation from the Basque Country in the U.S. will be hosting the event at the Puck Building in Manhattan.
The Boise-based band "Amuma Says No" will play during the reception. Those interested in tickets for the event are asked to contact the Basque Delegation in New York.
The exhibit, "Hidden in Plain Sight," will showcase Basque culture and history at one of the most popular tourist destinations in New York City. The exhibit will run from Feb. 6 to May 9.
The presentation will highlight the unique origins of the Basque people and their language, Euskera. The exhibit will also feature information about the history of the Basques and discuss the factors that prompted them to leave their homeland.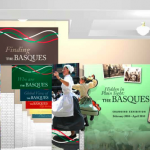 One section of the exhibit will be devoted to real-life stories of Basque immigrants in the United States, as well as the contributions made by Basque people here and in the Basque Country. It will be located on the third floor of the great hall where all the immigrants were processed.
A significant portion of the exhibit will afterwords be disassembled and moved to Boise, where it will be on display during the huge Jaialdi International Basque Festival in July 2010.
Millions of immigrants — including multitudes from the Basque Country — were processed through the port of entry at Ellis Island after it opened in 1892. Located at the mouth of the Hudson River and New York Harbor, the 27-acre island is now a national monument that includes Liberty Island where the Statue of Liberty is located. Today, over 40 percent of the U.S. population can trace their ancestry through Ellis Island.
Hidden in Plain Sight was organized by The Basque Museum and Cultural Center, the Basque Autonomous government, and the Boise State University Basque Studies Program.
The Puck Building is located at
295 Lafayette St.
Related news: