Team USA Pelota Squad to Begin Matches at Pan American Games
The United States pelota team, which includes several Basque players who honed their skills in last year's World Championships, will begin competing Friday at the 2011 Pan American Games in Guadalajara, Mexico.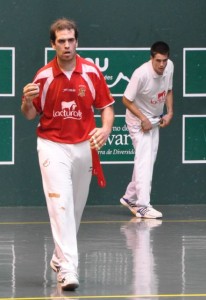 The Basque Americans on Team USA are Roger Etchevers, brothers Tony and Josetxo Huarte and Roberto Huarte. The other members of the squad are Rolando Tejada and Daniel Delgado.
Esther Ciganda, a veteran pelota player from Boise, is the team leader who is involved with logistics and planning during the huge Olympic-style event, which features thousands of athletes competing in a number of sports every four years.
RELATED EUSKAL KAZETA REPORTS:

Popularizing Basque Pelota
Etchevers, Huarte of Team USA in Medal Hunt at World Championships
Jubilation, Heartache and Hope at World Pelota Championships
This will be the first that the U.S. has fielded a pelota squad at the Pan American Games, where the sport is officially known as Basque Pelota. Immigrants from the Basque Country, where pelota is akin to a national pastime, helped popularize the sport across the Americas.
"It's great to see that Basque Pelota is being represented in an international Olympic event like the Pan American games," said Xabier Berrueta, president of the United States Federation of Pelota.
The Pan Am games, Berrueta said, are the perfect venue to highlight pelota and will help invigorate the sport. "It shows the influence of the game," said Berrueta, who will traveling to Guadalajara to see the matches.
He gave solid reviews for the entire U.S. squad, but he noted that Etchevers has a good chance to win a medal at the international competition.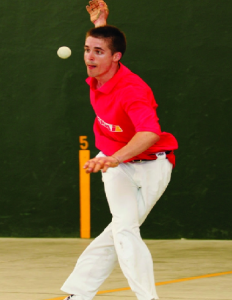 A native of Pomona, California, who now lives in the Basque town of Irissari, Etchevers narrowly missed a bronze medal by placing fourth in last year's World Championships in Pau, France.
Etchevers will be competing in trinquete singles handball and faces an opponent on Friday from Argentina at the Complejo Revolucion, where all the pelota action will unfold. As the competition progresses, Etchevers will likely face off against Hiriberto "Loquillo" Lopez, the reigning world champ in trinquete singles handball.
Tony and Josetxo Huarte will be teaming up for 36-meter doubles handball action. Both are also veterans of last year's World Championship squad.
The Huarte brothers spent their early years in the South San Francisco area but now live in Amauir in the Basque province of Nafarroa.
The brothers will face a duo from Argentina on Friday.
Roberto Huarte, whose dad was a sheepherder in northern Nevada, will be representing the U.S. in 36-meter singles handball. He lives in Zilbeti Nafarroa.
Tejeda and Delgado of Team USA will be competing Friday night in Frontenis, where players use a tennis-like racket to smack the ball.
Tejeda is from Laredo, Texas, and Delgado is from El Paso. Both men have sharpened their skills playing against top talent in Mexico.
Related Links:
To see live streaming of the pelota action and other events, click on this Pan American Games website.
For more information on Basque Pelota, see the U.S. Federation of Pelota website.