Team USA Wins Opening Matches at World Championships of Pelota
It was a good start for Team USA during the opening-day action Friday at the World Championships of Pelota in Pau, France.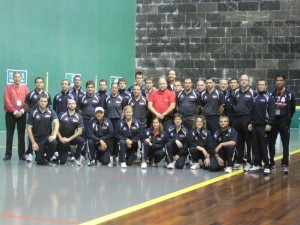 Basque Cultural Center athlete Mireille Acheritogaray, as part of a doubles squad representing the United States, won her opening match 30 to 13 against Canada in a paleta goma trinquete battle. In other action for Team USA, Roger Etchevers won his singles handball trinquete match against Argentina 40 to 11.
The other men on the U.S team, all from the Basque Cultural Center in South San Francisco, begin their tournament action Saturday against Spain and Mexico in singles and doubles handball.
Here are some of the first-day highlights from the championship tournament, sponsored by the International Federation of Basque Pelota:
36-Meter Court
Argentina 8 — Venezuela 22, Singles Handball
Mexico 22 — Cuba 0, Singles Handball
Venezuela 22 — Argentina 18, Doubles Handball
30-Meter Court
Guatemala 13 — Argentina 30, Fron Tenis
Mexico 14 — Spain 25, Paleta Goma
Chile 30 — Brasil 14, Fron Tenis
Argentina 25 — France 10, Paleta Goma

Trinquete
Mexico 30 — Cuba 12, Women's Paleta Goma
Click on the following link for Team USA's pelota schedule.
For updates on scores, check out the FaceBook page of the United States Federation of Pelota.