The city of Bilbo: A Revival and Evolution
Bilbo, the biggest metropolis in the Basque Country, has come a long way since its days as an ugly industrial city. Ivan Jimenez Aira, the director of Bizkaia Talent, a non-profit organization dedicated to keeping smart, talented people in the Basque Country, recently spoke with "The Guardian" about the renaissance of Bilbo (Bilbao).
"I have clear childhood memories of Bilbao: I didn't like it. It was a grey place: the river was polluted and the streets black. Now, with its 19th-century facades renovated, the Gran Via could be a street in Vienna and there are more green spaces here than any other city in Spain," said Jimenez Aira to the Guardian.
Bilbo, located on the Nervion River in the province of Bizkaia, suffered through an era of industrial restructuring in the 1970s, but then city fathers decided to respond by building Bizkaia Technology Park in the late 1980s, paving the way for a focus on research and development. The world-famous Guggenheim Museum followed in 1997, and the improvements have continued. A renovation of the medieval-era city center — the Casco Viejo — took place in the 1990s.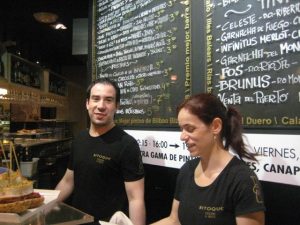 Innovation continues. Bilbo's reputation as a foodie haven is growing. Among favorite stops are Bitoque for pintxos or Mandoya or Zortziko for dinner.
A new 53,000-seat San Mames stadium was recently built in Bilbo to replace the historic home of its competitive soccer team Athletic Bilbao.
Today, Bilbo competes with Donosti as a top stop for tourists seeking art, culture, food and beautiful cityscapes, a far cry from the time when people stayed away from the gritty industrial town.
"I've lived in and around the city all my life and seen the evolution year by year," said Jimenez Aira. "It's incredible."
RELATED EK STORIES ON BILBAO
What to See in Bilbo – Euskal Kazeta