Acclaimed Basque Country chef to cook for S.F. Bay Area restaurant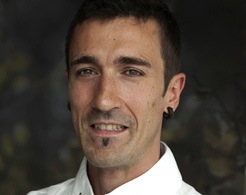 Basque chef Eneko Atxa will visit a San Francisco Bay Area restaurant in May to prepare a special collaborative dinner menu.
Atxa, who runs the critically acclaimed Azurmendi restaurant in the Basque Country, will team up with chef David Kinch for two nights at his Manresa restaurant in Los Gatos.
"He's not a household name, or anything like that," said Kinch to the San Francisco Chronicle's food blog. "But he's incredibly talented. I've cooked with him at a couple events and he's a complete bad ass …. This will be his introduction to the United States, and California."
The 35-year old Atxa is known for using fresh ingredients from his adjacent garden in his cooking. The Michelin 3-star Azurmendi, located about 30 minutes outside Bilbao in the town of Larrabetzu, is fully sustainable and runs on solar power.
The dinners will take place Saturday and Sunday, May 17 and 18 at 6 p.m. and will cost $235 per person. Wine pairings are available for an additional cost.
Read a personal interview with Atxa by Andy Hayler, a blogger who has visited every 3-star restaurant in the world.
Manresa is located at 320 Village Lane in Los Gatos. Make reservations by calling (408) 354-4330.
Watch the video to see how Atxa constructed his restaurant using ecologically and environmentally correct methods.
AZURMENDI. New building. from Gariza Produkzioak on Vimeo.