Basque Espadrille Industry Threatened by Cheap Knockoffs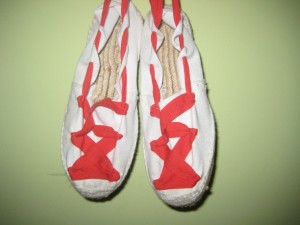 For generations, craftsmen in the Basque Country have created hand-made espadrilles. But the quintessentially Basque footwear is now facing a formidable challenge: cheap Asian knockoffs.
The comfortable rope-soled shoes have long been a favorite of Basque dancers. Traditional espadrilles are flat, with canvas tops of different colors. Most have a rubber sole glued to the bottom of the rope, to make them last longer. Dancers usually wear white ones with laces crossing the top that wrap around the legs. In Spanish they are called alpargatas, in Euskera espartinak.
But variations of the design have spawned over the years as the shoes have become increasingly popular. Espadrilles are a favored summer footwear among hipsters and fashionistas and have been shown off on fashion runways in Paris and New York. Wedge versions of espadrilles have been a popular choice among women for years.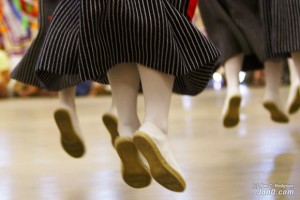 The surge in popularity has prompted a wave of less-expensive Asian knockoffs that threaten to sink the small shops in the Basque Country, where making espadrilles has become an art form, according to a report in the Vancouver Sun.
The new competition is being felt in places such as Maule-Lextarre (Mauleon). Located in the Basque province of Zuberoa in southwest France, Maule-Lextarre bills itself as the "Espadrille Capital." Small craftsmen in the area have been making espadrilles for generations.
But the local industry is now being undercut by inexpensive and inferior-quality espadrilles from Asia, according to the report.
"We've seen espadrilles hit the market at excessively low prices," said Jean-Pierre Errecart, 71, founder of Prodiso, which has been making espadrilles for years.
Some espadrille makers are hoping to counter the Asian knockoffs with a marketing campaign focusing on the unique, hand-crafted quality of their shoes. In short, they want customers to "buy Basque."