View 2012 Basque Summer Festivals in the U.S. in a larger map
The Basque festival season has begun, offering up great opportunities to soak up unique cultural experiences across the United States.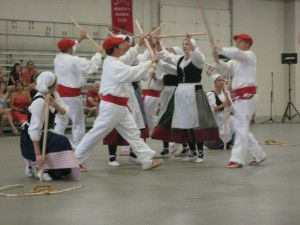 Basque immigrants have left their footprints in communities from Boise, ID, Seattle, WA, Chino, CA to Portsmouth, RI and New York City. Each has an annual festival sponsored by a local Basque Club.
Related Euskal Kazeta Reports:
Hundreds Enjoy Fresno Basque Festival
Reno Basques Host Huge Festival
Great Pelota Action at Kern County Basque Festival
Some festivals are huge, such as the Kern County Basque Club's annual event. Others, such as the Las Vegas Basque Club picnic, are not as large. But each one if packed with rich Basque culture. You can always be assured of great food, colorful dances and other displays of Basque pride.
The map above is your one-stop interactive guide to this year's Basque festivals.