Basque Pelota Great Fernando Goñi Retires
Fernando Goñi's championships and stellar performances made him a top player.

The 37-year-old athlete, known as Goñi III, recently played his last match for the pelota organization Aspe — capping a professional career that spanned nearly 13 years.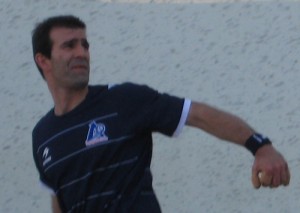 The native of the town of Zubiri has thrilled crowds as far away as California, where he and other professional pilotaris from the Basque Country squared off during exhibition matches at festivals in Bakersfield and San Francisco.
Related Euskal Kazeta Reports:
Basque Pilotaris Thrill Bakersfield Crowd
Video: Basque Pelota Players in Action
Popularizing Basque Pelota
Goñi told Euskal Kazeta that he wanted to remain involved in pelota. "I would like to continue with my sport in some manner," he said, "but for now I'm going to take some time to think about it."
A formidable foe on the court, Goñi started with Aspe when it formed in 1998. His impressive career included more than 420 professional victories — and four Basque pelota doubles championships in 2001, 2004, 2005 and 2009. According to Spanish media reports, Aspe did not renew his contract.
In recent years, Goñi and other Aspe players served as ambassadors of Basque pelota, helping to popularize the sport among Basques in the United States.
The pilotaris played exhibition matches at festivals sponsored by the Kern County Basque Club and San Francisco Basque Club. The games were always a big draw, and the non-stop action kept crowds on their feet.
For now, Goñi says, he will stay busy running his business, the Hostal Quinto Real in Eugui.